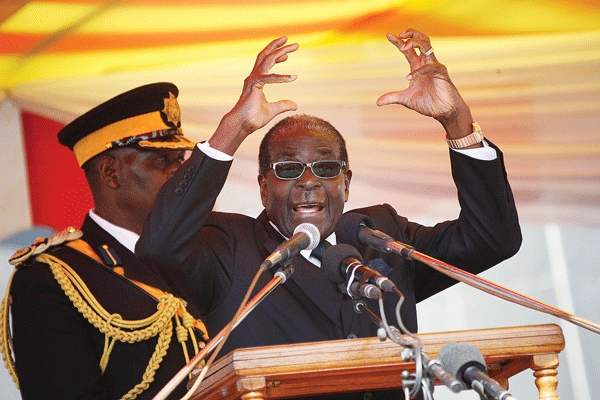 WAR Veterans minister Tshinga Dube has taken the bull by the horns and challenged President Robert Mugabe to urgently anoint or groom his successor to end the factional fights within Zanu PF and prevent possible chaos.
By NQOBANI NDLOVU
Speaking to NewsDay shortly after donating football kits to clubs at Stanley Square in Bulawayo on Saturday, Dube said it was inevitable that at the age of 93, Mugabe would step aside someday, hence, the need for him to groom a successor.
Dube said the war veterans demanding Mugabe to name his successor should not be labelled as "sell outs" because they were concerned at the likelihood of chaos, which could see an "Idi Amin (late former Uganda dictator) or (former Central African Republic leader Jean-Bedel) Bokassa taking over".
"Sometimes the war veterans are not understood. They are people who sacrificed their lives to have this freedom, which we are very proud of, but sometimes, people do not understand them," he said.
"For instance, when they said they are now looking at the future leadership, some people think they mean to say they are being disloyal to our President. No, not at all.
"We respect our President. He has done so much for this country. He has brought land to the poor, to the people, who never had land, he has brought education to our nation, but they are talking of the future.
"There is nothing wrong with talking about the succession. Succession is not a crime to talk about. This happens in every country. All what the war veterans are saying is that he must groom the next leaders so that whatever happens to him, or when he retires there is somebody we know."
Bokassa, labelled as one of Africa's brutal dictators, was ousted in 1979, having ruled the Central African Republic with an iron fist from 1966. Amin, also reported as a dictator, was nicknamed the Butcher of Uganda and served as a military ruler of that country from 1971 to 1979, brutally crushing his rivals to remain in power.
Debate over Mugabe's successor is regarded as taboo in Zanu PF, although some war veterans have broken ranks with tradition and named Vice-President Emmerson Mnangagwa as their preferred candidate.
Dube said Mugabe's delay in naming a successor was turning away potential investors at a time the country was in dire need of fresh capital to turn around the economy.
"Otherwise, it becomes very difficult for even investors to put their money when they don't know whether there is going to be another Bokassa or Idi Amin coming in. They want to know who will be the next person (President), so that when they put their money, they know it is safe," he said.
"War veterans are saying we are very happy with our President. We want him to win the next elections, but eventually, he will decide to retire, when, we don't know? That is what the war veterans are saying. When they choose some of these people, it's not because they are tired of our President, they are only misunderstood. There is nothing wrong with aspiring to be the next President."
His remarks came as some top Zanu PF officials, including Cabinet ministers and First Lady Grace Mugabe, have oddly claimed that the veteran politician will continue ruling Zimbabwe even from his graveyard.
Mugabe, who has already been endorsed as the ruling party's candidate for next year's presidential elections, has shown scant interest in naming his successor, a development which has given birth to two distinct factions in his party, both angling to sponsor a candidate to succeed him.
A group of war veterans led by former War Veterans minister Christopher Mutsvangwa has thrown their weight behind Mnangagwa, with the party's Young Turks seemingly settling for Defence minister Sydney Sekeramayi.
Zanu PF spokesperson, Simon Khaya Moyo recently claimed that all party members were free to declare their ambitions, warning that this should be done in line within party procedures.