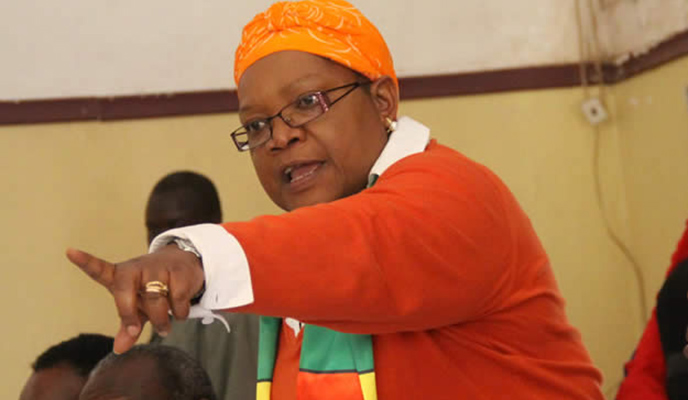 FORMER Vice-President Joice Mujuru has admitted that her expulsion from Zanu PF had opened her eyes, saying had it not been so she could still be blindly following and supporting President Robert Mugabe and his party.
BY BLESSED MHLANGA
Addressing a handful of her National People's Party supporters in Kuwadzana high-density suburb, Harare, over the weekend, Mujuru said had it not been for her detractors, who pushed her out of Zanu PF, she would not have gathered the guts to openly challenge her former boss.
"There are people in Zanu PF, who created false allegations against me, leading to my ouster from the party. These people did well to get me fired, do not blame them, because if it was not of them I would not have been able to say the things I am saying now. We would not be having this political party, where we can seat planning the things we want to do in future, so that we can improve our children's lives," she said.
Mujuru, who is gunning to lead the proposed opposition coalition has, however, repeatedly said she was not forced out of the party, but instead resigned way before she was fired by Mugabe.
In a show of respect for Mugabe and his education, Mujuru appeared to be shifting blame to people surrounding him, accusing them of misinforming and abusing him for personal gain.
She said Mugabe's hangers-on had worked round-the-clock to portray her as his enemy.
"As Mujuru, I have been following those who are educated, like Mugabe, some of us went to school through the window and we said those who were teachers before are the real deal.
"I could not have done these things because there are people who went to Mugabe to tell him, to stop me from doing villagisation (sic) in Gadzi Village. We had started some house in the village trying to show people that you have good living in the village. Planning irrigation systems like the case at Dotito.
"Zanu PF went there and destroyed that dream, if you ask people from these areas they will tell you that Zanu PF saw me as a threat if we leave her, the things that we want to win from Mugabe while he is still in power we won't get them," she said.
She also attacked Vice-President Emmerson Mnangagwa for using the command agriculture programme to seek personal glory.
"They want to praise command agriculture when all this food we have was because we had good rains and some of us used cow manure and not fertiliser now they want to take credit for God's blessings," she said.