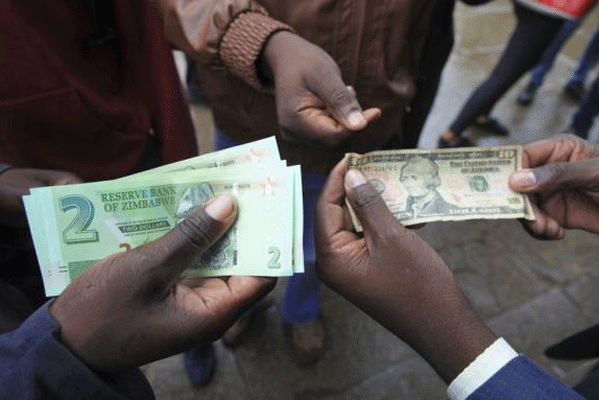 A FINANCIAL expert says the spike in system failures of real time gross settlement (RTGS) transactions from banks is causing more people to resort to the parallel market for cash, thus, exacerbating the illegal practice.
BY TATIRA ZWINOIRA
Financial expert, Persistence Gwanyanya, told NewsDay on Friday that money changers were finding a wider market, as transactions challenges were forcing depositors to turn to them as an alternative for hard cash.
"The system is failing to cope with increasing demand for electronic payments. It has also given rise to the increasing preference of the United States dollars compared to electronic money. This is what is happening in the market," he said.
At the Eastgate shopping mall in the central business district of Harare, the number of money changers has almost doubled in recent weeks.
These illegal traders, holding their wads of cash in bond notes, the South African rand or United States dollar have remained undeterred by the prospect of being arrested.
Two weeks ago, the banking sector was hit by a systems failure in transacting cash for two days due to the central bank's RTGS system going down for two days frustrating depositors across the sector.
The reason was due to a spike in RTGS transactions.
In the Reserve Bank of Zimbabwe's weekly economic review for the week ending May 26, transactions processed through the RTGS system increased by 1% to $1 079,29 million from $1 066,84 million in the previous week.
According to the review, payments through the RTGS system accounted for 77,33% of the total value of transactions processed through the national payment system (NPS), followed by point of sale (11,2%), mobile (10,62%), automated teller machines (0,75%), and cheque (0,09%).
As such, with the high amount of transactions and low of amount of cash withdrawals as seen from ATM transactions making 0,75% or $10,54 million of the NPS, demand for real cash has increased.
Gwanyanya said, while the uptake in plastic money has been encouraging, there was a slow realisation that there were some challenges with that platform.
"The transacting public is increasingly rattled with transactional errors, duplication around that system, meaning that it needs to be strengthened. I think that these are some of the things that the Reserve Bank can quickly intervene and work on. There has been talk of infrastructure sharing, but that conversation is yet to see the light of day with the Reserve Bank," he said.