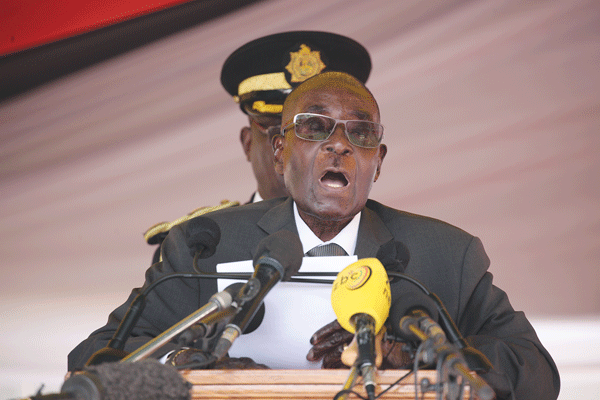 THE ruling Zanu PF party has started doling out residential stands to its youths countrywide as part of its 2018 election campaign strategy, in defiance of President Robert Mugabe, who has called for a rethink on housing and stands.
BY OBEY MANAYITI
The exercise has already gained traction in several provinces, with Harare provincial youth leader Edson Takataka yesterday saying almost 7 000 stands identified in Manyame were ready for distribution among party youths.
"We are going to meet district chairpersons so that people can start paying money for the servicing of the stands," he said.
"As Harare youths, we would want to appreciate the President for what he has done for us.
"For the Manyame area, everything is now set and what is left is for the youths to pay money for servicing. "The stand numbers are there and now ready for allocation. The land in Manyame will also benefit youths in Mashonaland East province."
Zanu PF political commissar and Local Government minister Saviour Kasukuwere has, since last year, been dangling residential stands to the youths to woo them ahead of next year's polls, where the ruling party faces a stern challenge from a possible united opposition.
Addressing a youth campaign rally in Marondera last week, Mugabe urged beneficiaries of the party's stands offer to construct high-rise buildings to save urban land.
Takataka said they would consider Mugabe's proposed housing model in Norton and Chishawasha.
"If the President says that, then we will welcome it. What we want is for the youths to get their own houses and if it's through apartments or residential stands, all is welcome," he said.
Mashonaland Central provincial youth chairperson, Isaiah Mandaza said some youths in parts of the province — such as in Mazowe and Muzarabani — had already received their stands, although there were still challenges with other areas.
In Manicaland, provincial youth chairperson, Mubuso Chinguno said they had already allocated stand numbers to about 4 000 youth in parts of the province.
"In Chipinge, we have already given out stand numbers and about 4 000 youths benefited. Pegging is now underway and in the first week of July, servicing will start," he said.
"In Mutare, we are still in the planning stage. In Makoni we were given 40 hectares of land. In Buhera, we were given another piece of land and all projects are moving on well."
Bulawayo provincial youth leader, Anna Mokgohloa said the residential stands issue was still work-in-progress.
But Zanu PF spokesperson, Simon Khaya Moyo said he was unaware of the programme, which was dismissed by opposition parties as a criminal vote-buying gimmick.
MDC-T spokesperson, Obert Gutu dismissed the programme, saying it was criminal for Zanu PF to dish out unserviced stands to unemployed youths.
"Of course, that's a naked and crude vote-buying gimmick that will not work. The people of Zimbabwe are not stupid," he said.
"They can easily see through this hollow, populist and meaningless vote-buying trick by the beleaguered and bankrupt Zanu PF regime.
"Dishing out un-serviced residential stands to jobless people, who have got no financial means to build houses, will simply not cut.
"The people of Zimbabwe want jobs, the opening-up of industries and factories as well as the provision of genuine and sustainable entrepreneurial opportunities."
People's Democratic Party spokesperson, Jacob Mafume described the parcelling-out of stands as "total madness".
"It's madness and open vote-buying. They should be arrested for vote-buying. We wait to see what Zec (Zimbabwe Electoral Commission) does about such wilful disregard of the rules and laws of the elections," he said.
"It is clear that they will resort to stealing and giving freebies just to stay in power."
MDC spokesperson, Kurauone Chihwayi said this was a direct violation of the Electoral Act.
"This is vote-buying by a party that is smelling defeat," he said.
"Zanu PF is a filthy party that is known for stealing elections and Zec should act on these criminal activities."