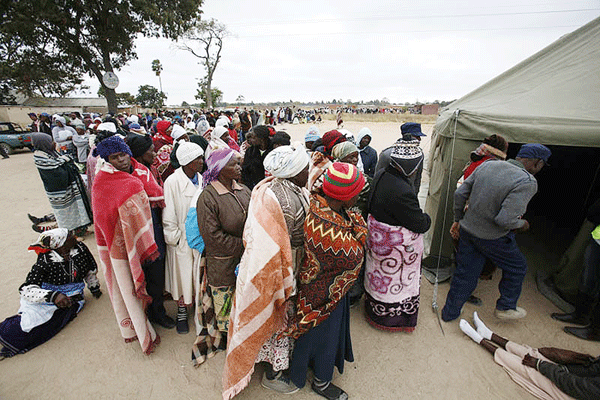 ZIMBABWE'S 2018 elections are likely to be held on July 23, at the earliest, if new constitutional provisions are followed, according to an election watch series by legislative watchdog, Veritas.
BY NQOBANI NDLOVU
Veritas is running an election watch series, providing electoral information and its implementation in the run-up to the elections.
In its first bulletin, Veritas said the elections will likely be held between July 23 or August 21 at the latest.
Veritas said the polling date of the next general elections was determined by what the Constitution says about the duration of Parliament, citing section 143(1), which states that Parliament is elected for a five-year term, which runs from the date on which the President-elect is sworn in and assumes office.
"The President was sworn in on August 22, 2013, so the five-year term of Parliament ends at midnight on August 21, 2018," the bulletin read.
"The earliest date for polling is July 23, 2018. This is based on section 158 [Timing of Elections], which states that: '(1) A general election must be held so that polling takes place not more than … 30 days before the expiry of the five-year period specified in section143'.
"The provisions on the timing of general elections differ from those in the old constitution. The present constitutional provisions were a deliberate change from the provisions in the old constitution in which five years was only a maximum term for Parliament and the President could dissolve Parliament by Presidential Proclamation whenever he wanted before the five-year term had expired."
The legislative watchdog added: "The last date for polling is August 21, 2018. This is based on section 144, which states that: 'the President must, by proclamation, call and set dates for a general election to be held within the period prescribed in section 158'.
"This means that the election must take place before the five years has expired."
Veritas said the President has the prerogative of setting the election date, but guided by the Constitution and the Electoral Act for the time between the proclamation and polling.
"Section 38 of the Electoral Act stipulates a maximum 84 days between proclamation and polling," the watchdog said.
"So the earliest possible proclamation date is April 30, 2018 for polling on July 23 [leaving an 84-day period from proclamation to polling] and the latest possible proclamation date is July 9, 2018 for polling on August 21 [leaving a 44-day period from proclamation to polling]."