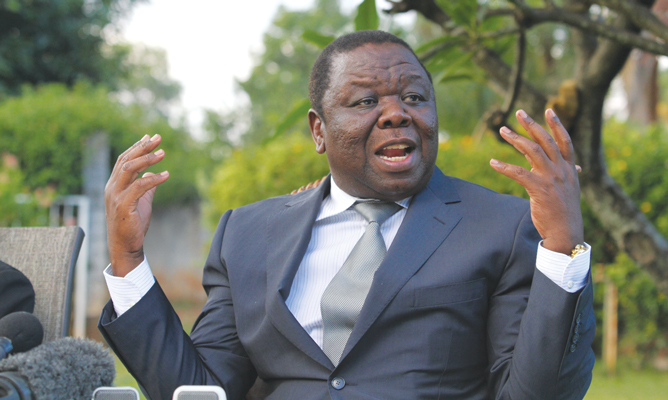 MDC-T leader Morgan Tsvangirai yesterday cautioned fellow opposition leaders involved in coalition talks against jostling for key positions in the proposed grand coalition, but focus on crafting policies aimed at resuscitating the country's comatose economy in the post-President Robert Mugabe era.
BY OBEY MANAYITI
In a statement, Tsvangirai described fellow opposition leaders already jostling for influential positions before conclusion of the coalition talks as "small-minded opportunists" bent on selling out the people's struggle.
"For some of us, the debate around the next election should never be about positions, but about conditions! Who holds what position in the new administration is a petty debate being foisted on the nation by small minds, opportunists and detractors of our people; the true sellouts of the people's struggle."
He threatened to clamp down on "unruly elements that seek to divide them" through fighting for leadership positions.
There has been heated debate among opposition parties over a suitable candidate to lead the coalition project with Tsvangirai and National People's Party leader Joice Mjuru touted as possible contenders. Tsvangirai's supporters have vowed to scuttle the coalition talks if he was not chosen as coalition leader with other parties accusing the MDC-T of jumping the gun.
Tsvangirai said alliance partners should focus on a transformative policy agenda so that they would not be found wanting when they dislodge the Zanu PF government in next year's general elections.
"Once we have built this alliance — and we are well on course — we must agree on a credible policy agenda as a key signpost to the positive change we seek," Tsvangirai said.
"We must not only have a pre-election pact about seats and other relatively petty matters, but we must agree on the fundamentals of the policy agenda that we will embark on after the next election. Given the comatose state of our industry, our dilapidated infrastructure and the country's despicable and tenuous predicament, it has become imperative that we embark on a transformation and not a recovery agenda. Recovery is an understatement of what we need to do. We simply need to start afresh."
Although both Zanu PF national spokesperson Simon Khaya Moyo and administration secretary Ignatius Chombo were unreachable for comment yesterday, the ruling party officials were on record trashing the opposition's proposed coming-together "as a coalition of zeros".
Tsvangirai urged the opposition to prepare for the upcoming voter registration exercise and work in unison that goes beyond political personalities.
The former Premier warned against making false electoral promises during the campaign period.
"Our (Zanu PF) colleagues failed to realise that political independence, while it was important, was insufficient. It is always the stretch beyond liberation and political independence where the real work lies. The magnitude of the mammoth work beyond a people's liberation must not be lost in the excitement of the fall of the strongman!
"In our case, it is not just about consigning Mugabe and Zanu PF to the dustbins of history. The real work begins the morning after and we have to be very clear from the outset what we will do.
"And because time is not on our side, we need to agree on that transformative agenda now so that after the next election, it is all about implementing an agreed programme of action."
Tsvangirai said although it might appear as if they were moving at a snail's pace, they were working behind the scenes to finalise the alliance.
He said even though there was a high likelihood that the ruling Zanu PF would invest scarce national resources into power retention, opposition parties should not be intimidated in anyway against their mandate.
Zanu PF has for long been accused of using violence to cow the electorate into submission ahead of elections.
"We must be ready for them, armed with no other weapon except our sheer unity and a collective resolve for change. All we need is a formidable unity that spans from the top to the very grassroots of our nation," he said.