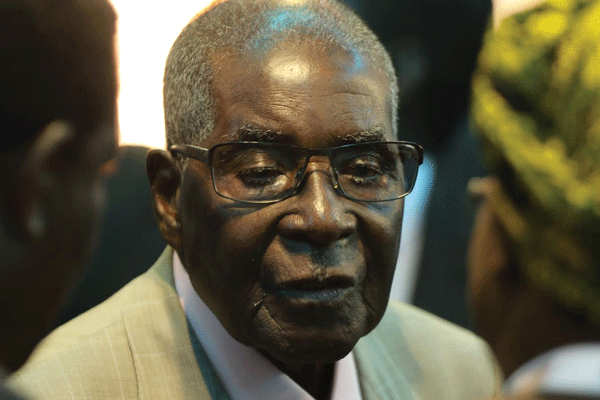 ZANU PF is plotting a shutdown of Mashonaland East and is reportedly forcing schools in the province to release their buses and trucks to carry supporters to President Robert Mugabe's rally slated for next Saturday at Rudhaka Stadium in Marondera.
By Jairos Saunyama
The ruling party, which is often accused of using force and intimidation to get support, has allegedly ordered school authorities in the province to provide buses so that youths and other people can be ferried to the rally.
Although Zanu PF provincial youth league chairman, Kevin Mutsvairo could not state the source of the 58 buses so far secured for the rally, sources told NewsDay Weekender that schools had been marshalled to provide the transport for the rally, where the 93-year-old leader will interact with the youth.
"We are at an advanced stage as far as mobilisation of people and resources ahead of the big day is concerned," Mutsvairo said.
"So far, we have secured 58 buses and 69 lorries. Everything is in place and we are still mobilising for more transport resources because we are expecting thousands of youth."
The rally kickstarts a series of countrywide gatherings, which will see Mugabe addressing the youth in the country's 10 provinces.
The Zanu PF youth league said close to 100 000 youths are expected at Rudhaka Stadium to listen to Mugabe, who is on a nationwide tour to meet the youth and mobilise support ahead of 2018 general elections.
Although the stadium cannot hold such a multitude of people, Zanu PF claims it will ensure the small soccer ground and its terraces accommodate all the people from the province's 23 constituencies.
Zanu PF secretary for youth, Kudzi Chipanga told delegates, who attended a preparatory meeting recently that each of the 23 constituencies in the province would provide 4 300 youths, with MPs instructed to mobilise people to attend or risk political office.
In preparation for Mugabe's visit, Marondera Town Council, with help from the Zimbabwe National Roads Authority, on Thursday embarked on a massive rehabilitation of the road that links Harare-Mutare Highway and Rudhaka Stadium.
NewsDay Weekender witnessed workers with heavy vehicles and machinery busy patching potholes and widening the road.
The move has angered residents, who accused the council of hypocrisy and only being concerned about service delivery when Mugabe visits.
Efforts to get a comment from town clerk, Josiah Musuwo were fruitless yesterday.