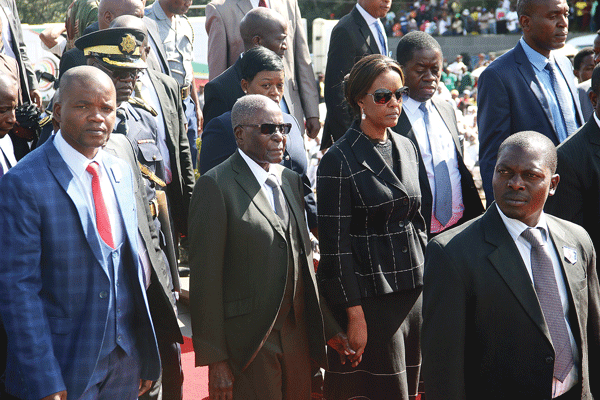 WAR veterans have warned President Robert Mugabe that he might go down together with his beleaguered Zanu PF national political commissar, Saviour Kasukuwere in next year's general elections if he continues shielding the latter.
BY RICHARD CHIDZA/NUNURAI JENA
Zimbabwe National Liberation War Veterans' Association spokesperson, Douglas Mahiya yesterday said the former fighters were unamused and accused Mugabe of protecting Kasukuwere in order to create a dynasty.
Mugabe last week sent a high-powered Zanu PF probe team to Bindura to investigate Kasukuwere after the party's 10 provinces recently endorsed the call for his ouster for reportedly plotting to dethrone Mugabe, among other charges.
But war veterans said they suspected Mugabe just wanted to buy time and give Kasukuwere another chance to rebuild his battered political profile.
"We had expected the leadership of the party to act with speed because this is an issue we have been pushing for a long time. There is nothing
special about Kasukuwere. Nobody raised the issue of the constitution when we were expelled, but now they want to appear to be following the law," Mahiya said.
"We can see through him (Mugabe). He wants an emasculated Kasukuwere, so he can use him in the creation of his dynasty. It is not going to work. They will both go down."
Mahiya announced the war veterans would field a candidate to challenge Kasukuwere in his Mt Darwin South constituency next year.
"We are preparing a candidate now. Unless Mugabe finds a way out of this, then there is no going back. Those who are supporting G40 will face the wrath of the people. We expected the leadership to be more decisive, but then, we realise the leopard has not changed its spots. To us, the creation of a dynasty is the same as colonialism, which we cannot fathom," he said.
But, a defiant Kasukuwere yesterday scoffed at the threats.
"If they are now a political party they have every right to contest the elections. They should, however, be ready for a heavy defeat. If anything, I would want to stand against Mahiya in whichever constituency he chooses," Kasukuwere said.
Mugabe's relationship with war veterans has been on the wane since last year and turned even more sour following the release by the ex-fighters of a damning communiqué that slammed the Zanu PF leader's manipulative nature describing him as "genocidal."
Kasukuwere has been on the ropes in the past few weeks after party activists beginning with his home province Mashonaland Central, demanding he be sacked from his position accusing the Local Government minister of fanning divisions among a litany of accusations.
War veterans, who have not hidden their disdain of the man touted as the leader of a faction known as G40 that is bitterly opposed to Vice-President Emmerson Mnangagwa succeeding Mugabe joined in the ensuing chaos, even to the extent of announcing they would support First Lady Grace Mugabe's bid to stand in Harare South constituency.
Harare South constituency is represented by another G40 proponent and suspended party provincial commissar Shadreck Mashayamombe.
The apparent thaw in relations between Mugabe and the war veterans crumbled after a team sent out by Mugabe last week and headed by National Assembly Speaker Jacob Mudenda seemed to have spared Kasukuwere's political neck after demanding proof of the accusations.
An exasperated Mahiya said Kasukuwere was the antithesis of a Zanu PF political commissar.
"Kasukuwere is a notorious trouble monger whose ideological scope does not go beyond invoking the name of the dear leader as shield for every type of sordid malfeasance. The track record of Zanla and Zipra political commissars is one of positive and fruitful engagement all the way into the game changing electoral victory of 1980. That is clearly an impossible feat for a political cypher like Kasukuwere," the war veterans' spokesperson said.
"Kasukuwere is a hard sell even among the party faithful, he will sure flounder worse with national electorate, who are daily grinding in poverty. A revolutionary party that frittered away the 2013 electoral landslide now pre-occupies itself with shielding Kasukuwere from the ire of the rank and file."
Mashonaland Central Provincial Affairs minister Martin Dinha also said Kasukuwere was not yet off the hook.
Dinha, in a leaked WhatsApp group chat, described Kasukuwere as the self-proclaimed "mafia boss and political thug".
Dinha said Zanu PF provinces did their part in exposing Kasukuwere and it was now left for Mugabe to decide the Zanu PF commissar's fate.
"Let's not speculate what Gushungo (President Mugabe) is likely to do I mean soon we will know if Tyson (Kasukuwere's nickname) survives or not … he (President Mugabe) will either accept or reject (Jacob) Mudenda's report. Gushungo is the game changer, but remember (Pupurai) Togarepi went the same way. It's now left to Gushungo to see if his marketing and sales manager is still able to market the Zanu PF product in 2018 or not," Dinha reportedly wrote.