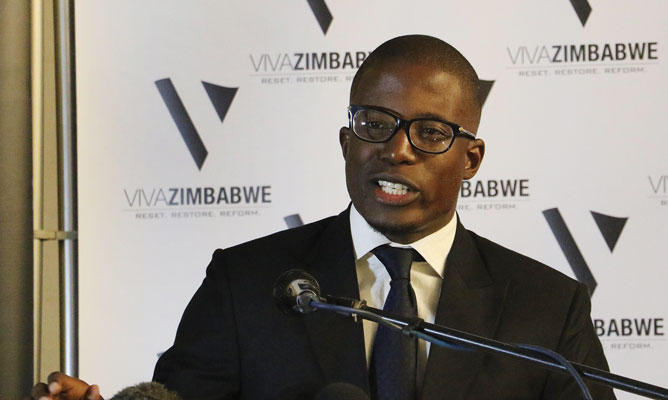 Viva Zimbabwe leader, William "Ace Lumumba" Mutumanje, who is facing forgery allegations, was arrested at the Harare Magistrates' Court yesterday after he defaulted court.
BY DESMOND CHINGARANDE
Mutumanje's lawyer, Advocate Webster Chinamhora, confirmed to NewsDay that his client was in custody at Southerton Police Station and was expected to appear in court today.
The former Zanu PF activist had appeared before magistrate Barbara Chimboza in the morning accompanied by another lawyer from the Zimbabwe Lawyers for Human Rights, David Hofisi.
He successfully applied for the cancellation of the other warrant of arrest over a case he is accused of insulting President Robert Mugabe during the launch of his party, Viva Zimbabwe, last year.
The State alleged Mutumanje was also supposed to return his passport, which was temporarily released to him to attend his business interests outside the country.
When Mutumanje came out of the courtroom waiting for Chinamhora, who is representing him in a case of forgery, officers from CID Law and Order then arrested him.
Chinamhora said Mutumanje's records were supposed to be brought before Chimboza and he did not know why the clerk of court decided to bring only one record as the reasons for defaulting court were the same.
"The records were supposed to be brought to court for the cancellation of the two warrants as the reasons were the same and I don't know why the clerk of court decided to release only one record," he said.
In that case, Mutumanje is jointly charged with Tonderai Maposa.
Allegations are that on an unknown date, Mutumanje and Maposa had a Toyota Ipsum vehicle, which was not registered either at the Central Vehicle Registry or in the Zimbabwe Revenue Authority database.
The State alleges that the pair connived with Gilson Mubaiwa, who is still at large, and forged a vehicle registration book.
According to the State, Mutumanje's mother, Agnes, was registered as the owner of the vehicle.
Maposa reportedly then took the vehicle to Royal Car Sales in Harare and misrepresented that the vehicle was properly registered.
The State alleges on July 17 last year, Evans Mereki found a buyer for the vehicle, Justice Mabuto, and received $1 850.
Mutumanje later handed over the registration book and Mabuto took it to Marondera Zimbabwe National Roads Authority offices intending to buy the vehicle licence and was told that the registration book was fake.
Audrey Chogumaira represented the State.