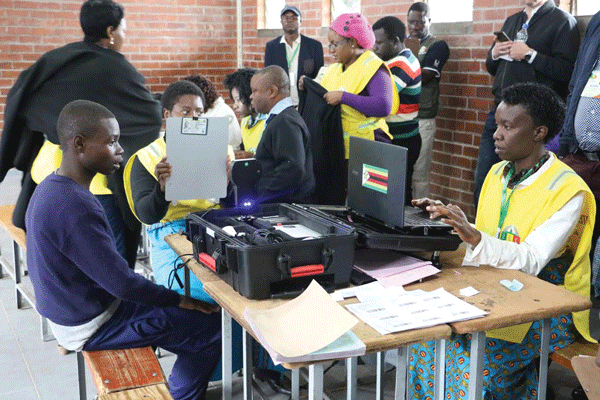 VETERAN opposition leader Morgan Tsvangirai's MDC-T party has claimed it has President Robert Mugabe firmly "cornered", threatening to reveal the ruling Zanu PF party's elaborate plot to rig next year's general election.
BY RICHARD CHIDZA
The MDC-T is part of political groups invited by the Zimbabwe Electoral Commission (Zec) to inspect the purchase of biometric voter registration (BVR) kits that went into testing yesterday.
A top MDC-T source, who spoke on condition of anonymity and is involved in the inspection, told NewsDay that Mugabe's elaborate rigging plan revolved around the "shadowy" procurement of "computer servers".
"Zec is in the process of procuring computers and all the other paraphernalia associated with BVR to capture the data of those who would want to vote in the next election, but there is a catch to this. Nobody has indicated how and from whom the servers for this computerised system will be purchased," the source said.
Another MDC-T source involved in the inspection of the BVR kits said: "According to what we have been shown thus far, data from the field will be transported on flash discs to district offices, maybe then to provincial offices before the national command centre receives such information.
"It is here that we think it will be tampered with. Either the flash discs can be switched or the servers would have been pre-loaded in advance with information from Zanu PF and the Central Intelligence Organisation."
The main opposition party's spokesperson, Obert Gutu, confirmed their fears, but declined to disclose further details of their findings. "All their vote-rigging shenanigans are being systematically unveiled and it's apparent the regime is now in panic mode," he said, adding the MDC-T had come up with various mechanisms to block Mugabe's plans to rig next year's election results.
"We have got our team of experts who have got their eyes on the ball all the time. It is not strategic for us, at this juncture, to disclose the findings by our team of experts.
"But we can assure the nation that we will not let the Zanu PF regime have their cake and eat it (too). This time we have the regime firmly cornered.
"Zimbabweans can be rest assured that we will not allow the 2018 plebiscite to be rigged. No. That will not happen again," Gutu said.
A Chinese firm and German company have been shortlisted as possible suppliers of the BVR kits and testing got underway yesterday in parts of Harare to check the practicality of the operation that could change the face of elections in Zimbabwe.
Zec chairperson Justice Rita Makarau was not immediately available for comment as her mobile phone went unanswered.
Zanu PF spokesperson Simon Khaya Moyo dismissed the MDC-T's claims as "absolute hogwash".