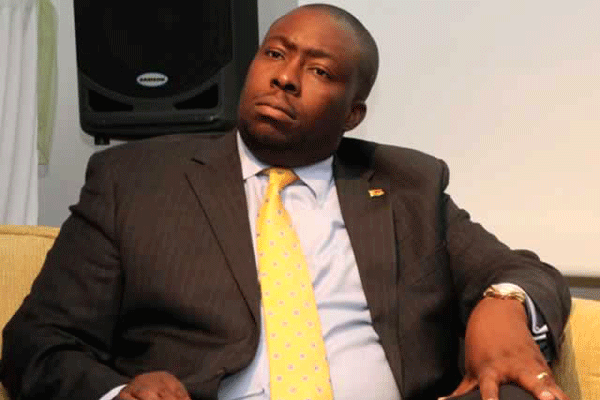 BELEAGUERED Zanu PF political commissar Saviour Kasukuwere reportedly asked for forgiveness from President Robert Mugabe during Wednesday's politburo meeting, NewsDay has heard.
BY RICHARD CHIDZA/BLESSED MHLANGA
Sources who attended the meeting claimed Mugabe told the meeting he was aware of Kasukuwere's shenanigans including creating parallel structures.
"The President, in a direct address to Kasukuwere, said he was aware that the PC (political commissar) had created parallel structures across the provinces," a source said.
"President Mugabe seemed to have been reading from a report produced by (Transport minister Joram) Gumbo following the inconclusive Masvingo provincial elections in which Kasukuwere is accused of usurping a politburo directive to hold elections for the whole main body structure."
Sources said Kasukuwere took the chance to apologise "profusely".
"He was contrite, shaken and, while giving his report, intermittently apologised to the President throughout," another insider said. "You would feel for the man, he looked genuinely apologetic about the whole situation."
But Zanu PF spokesperson Simon Khaya Moyo would neither deny nor confirm Kasukuwere's apology.
"I am not aware of that; it could have happened while I was briefing the Press," he said.
Kasukuwere is said to have apologised in Shona saying "forgive me, father, I am your son" on several occasions.
However, his report, according to sources, seemed to be a direct attack on his opponents, who were baying for his blood over allegations he was planning to topple Mugabe.
In his report, Kasukuwere painted a situation that showed he was under siege along with his colleagues in the G40 faction.
Kasukuwere reportedly told the meeting that a group within the party, possibly a faction sympathetic to Vice-President Emmerson Mnangagwa, was behind the demonstration that rocked the party early this week, particularly in his home province of Mashonaland Central demanding that he be relieved of his duties.
The Local Government minister was said to have based his report on a message that went viral on social media this week requesting Zanu PF members to picket against party leaders linked to the G40 faction, among them Vice-President Phelekezela Mphoko, Kasukuwere, Tabetha Kanengoni-Malinga, Dickson Mafios, Wonder Mashange, Mandi Chimene, Kudzi Chipanga, Samuel Undenge, Jason Machaya and Makhosini Hlongwane.
Midlands subsequently held a demonstration against party officials listed on Monday, the same day an anti-Kasukuwere protest was held in Bindura.
The protests were, however, stopped after Mugabe called everyone to order the same day.
During his report presentation, Kasukuwere reportedly indicated Masvingo Provincial Affairs minister Shuvai Mahofa had allowed a demonstration against targeted party leaders despite Mugabe having called for a halt to protests.
But Mahofa was said to have stood her ground.
"She responded immediately, arguing there was an attempt that was broken up by party leadership and those who were part of the planned demonstration headed for the Mwenezi East constituency to be part of the by-election campaign," another close source said.
Another source, however, claimed G40 had won the contest with its rival faction suffering a major reversal to gains acquired over the past week.
"All the demonstrations targeting Kasukuwere were rubbished. You see, there is no province without representation in the politburo. So, when the politburo members were being asked 'what is this we hear?' no one claimed to know anything. Those we know planned these demonstrations all went into hiding," the source said.
The source said Mugabe's warning had been taken seriously after he called the demonstrations primitive, resulting in the politburo roundly denouncing the demonstrations.
It is also alleged that the politburo noted that a number of people involved in the anti-Kasukuwere demonstrations in Bindura were aligned to fired former Vice-President Joice Mujuru with some having been ferried from Harare.
Khaya Moyo confirmed Kasukuwere had, in his report, spoken about the demonstrations.
"Yes, part of the commissariat report included the issues of demonstrations, but these are issues that were already in the public domain published in the papers.
"When I went back (into the meeting), the President was telling us to follow the example of the women, who followed laid-down party procedures, to bring the report on the allegations through party channels and if that is done, the matter will be discussed," the Zanu PF spokesperson said.
Kasukuwere was not available for comment yesterday.