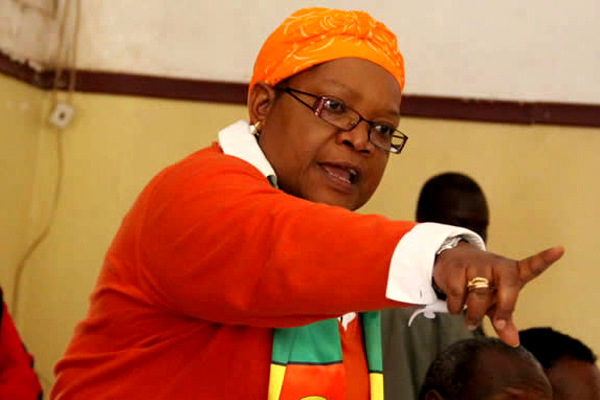 NATIONAL People's Party (NPP) leader Joice Mujuru has urged Zimbabwean women to participate in next year's elections in order to help redefine the current political narrative dominated mostly by men.
BY TINOTENDA MUNYUKWI
In an interview with NewsDay during the launch of the Hivos-organised Women for Leadership Programme on Thursday, Mujuru said women should organise themselves in meeting all the prerequisites expected of citizens who participate in an election.
"Women from 18 years of age should make sure that they have all the correct documentation from the birth certificate and understand the steps that they have to take just to get to the last day of voting because this is very important," she said.
"We must understand that as women we can only be included in politics if we take the initiative ourselves. It's now very important that we vote in our numbers in order for us to change the status quo, especially now as we approach 2018."
Mujuru, who earned the sympathy of some women during the time she was booted out of Zanu PF where she was vice president, warned women against pulling each other down in politics.
She urged them to help elevate women to strategic positions of power similar to the one she held before her unceremonious dismissal. "We should ask ourselves as women if we are doing the correct thing or the few women who are actually about to make it, we are destroying them," Mujuru said.
"What should be done is that the few that are about to make history, should be assisted and corrected if they are making mistakes instead of being criticised and destroyed by other women."
She went on to describe her Zanu PF downfall as an orchestration of men who were afraid to see a woman in power.
"If a woman tries to lift her head, it's immediately chopped. It is not women doing it but it is the men who are afraid of women in powerful leadership positions and because we are stupid enough we think they are actually doing good," she continued.
Goromonzi West MP Beatrice Nyamupinga advised women in politics to mentor and open doors for other members to enter.
"I want to advise those who are in politics to mentor other women especially young girls to come to politics because we can only uplift each other as women so that we all share the challenges and opportunities that are there.," Nyamupinga said.
"There should be mechanisms to protect even the women who are in politics, ones that will make sure that as women we are not disadvantaged in any way when we are contesting in elections. We should bear in mind that as we join the wagon as women, there are some men falling off the wagon and they will not give us power on a silver platter."
Zimbabwean women continue bemoaning under-representation in politics with the highest political position in the country having been occupied by a man, Robert Mugabe since 1980.