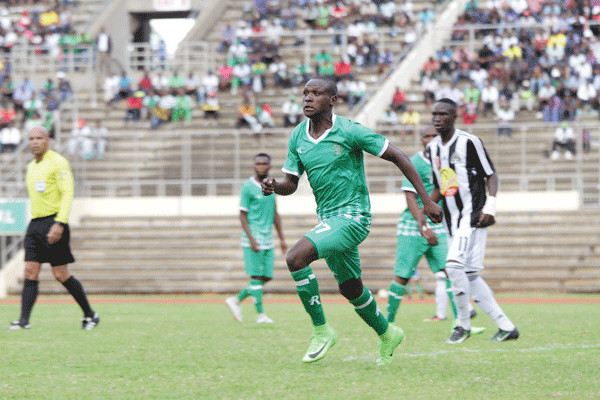 CAPS United's marriage with Simba Nhivi, one of the heroes of their memorable campaign last term, appears to be over, as the player has stopped training with the champions.
BY TAWANDA TAFIRENYIKA
The Harare football giants are haggling with Nhivi, one of their top forwards, over a contract extension, with the club said to be failing to meet some of the player's demands.
Nhivi's contract with the club expired at the end of last year and he had been registered for the Caf Champions League in the hope that he would renew the deal.
He has featured in all the four Champions League games that Caps played this season, scoring once, en route to the club's historic qualification to the competition's group stages.
However, it appears negotiations for a possible contract renewal have hit a snag and reports suggest his head has been turned by mega offers from Tanzania, the new favoured destination for Zimbabwean players.
As Caps United prepared for the Independence Cup semi-final tie against rivals Dynamos at the weekend, Nhivi was conspicuous by his absence at training yesterday.
Contacted for comment, the striker, who has also played for Dynamos, said: "I am at home. That's all I can say. Talk to my manager for a comment."
His manager, Gibson Mahachi, could not be reached for comment, as he is said to be out of the country.
While Nhivi is eligible to play in the Caf Champions League, he is unregistered to play in the domestic league, hence, he has missed Caps United's opening two league matches against Shabanie Mine and Harare City.
Reports suggest that Nhivi is asking Caps United to meet what Tanzanian clubs have tabled, but the financially-struggling club is not prepared to do so.
It appears they are prepared to let him go.
A source said there is a feeling in the club hierarchy that Nhivi has betrayed them by refusing to renew his contract after they gave him a platform to showcase his talents that eventually took him to South Africa, where he played for Mamelodi Sundowns.
And when he returned to Zimbabwe after an unhappy stint in South Africa, Nhivi opted to rejoin Dynamos ahead of Caps United.
After failing to make an impact at the Glamour Boys, Caps United were there to take their former son on board.
The player rediscovered his form at Caps United and last season, was the second top goalscorer for the club, with seven goals behind teammate and PSL Golden Boot winner Leonard Tsipa, who scored 11 goals.
The attacker is thought to be on the verge of joining newly-promoted Tanzanian club Singinda United, which recently signed the Dynamos duo of Elisha Muroiwa and Wisdom Mutasa.
Caps United coach, Lloyd Chitembwe, speaking at the team's Press conference last week, appeared resigned to losing Nhivi.
"Simba has always been an important part of the team. I'm talking of someone, who has great cognitive ability on the pitch. He is one player very comfortable in playing in different roles on the pitch and not many players can do that," he said.
"We could play him as a wide player and as the top man or as a second striker. He can do that with great efficiency and it's sad not to have him in the group.
"But, all the same, we have to respect his feelings. Personally, as a coach, he is one player I really wanted to work with, considering what he was giving to the team.
"The focus should be on the players that are there and they are as good as him and it's up to them to up their game so they can give what Simba was giving us."