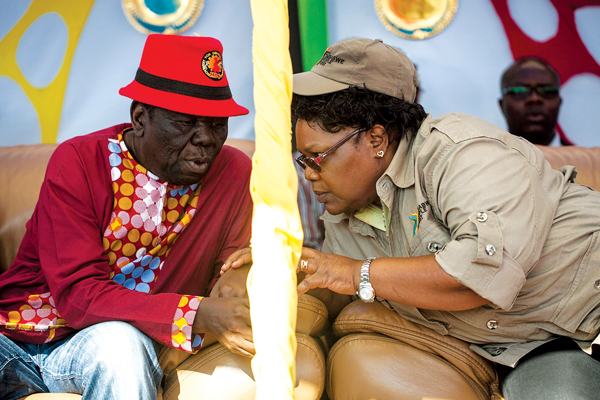 MDC-T leader, Morgan Tsvangirai yesterday denied claims by National People's Party (NPP) leader, Joice Mujuru that the two parties had signed a memorandum of understanding (MoU) for a grand coalition.
BY BLESSED MHLANGA
This came hardly a week after Mujuru told party supporters in Masvingo that she had signed an MoU with Tsvangirai, which would see the latter emerge as leader of the proposed grand coalition to challenge President Robert Mugabe in next year's presidential race.
But, Tsvangirai's spokesperson, Luke Tamborinyoka, in a statement yesterday, said although his boss had opened up "fruitful negotiations with several political parties" over the past few months, he was yet to seal a concrete pact with any of the parties involved in the coalition talks.
"I wish to state that president Tsvangirai has not signed an agreement or a memorandum of understanding with anyone, even though he is currently engaged in fruitful discussions with several political parties, including the NPP," Tamborinyoka said.
"Once the process of alliance talks and engagements is complete, president Tsvangirai will update party organs and the people of Zimbabwe on the outcome. We are alive to the fact that both these coalition talks and the next election are not about Robert Mugabe, Morgan Tsvangirai or any other political leader for that matter.
"The next election is about the people of Zimbabwe post-Mugabe and their opportunity to lay the ground for an inclusive society well-poised for economic growth, stability, democracy and massive transformation of our governance culture."
Tamborinyoka said any coalition was likely to go beyond just political parties and was also about forming strategic alliances.
"As president Tsvangirai, two weeks ago, told the national council, these alliances are likely to go beyond political parties to include key and strategic networks that we cannot divulge for now," he said.
"Put simply, the next election is about the people and not the leaders, which is why president Tsvangirai is encouraging everyone, particularly the youth, to register to vote so that they can determine their own future and not outsource that precious future to anyone."
Mujuru, whose party has been rocked by mass defections and resignations of top officials over the past few weeks, is on record confirming that her deal with Tsvangirai was already done.
"We signed a memorandum of understanding with Tsvangirai, which has a roadmap that we agreed on, which outlines the strategy," she said in Masvingo last Thursday and NewsDay has an audio recording of the speech.
"We also tabled our differences and resolved them."
Contacted for comment yesterday, Mujuru's spokesperson, Gift Nyandoro appeared to have been caught flat-footed and was at pains to explain the contradictory statements by the two leaders.
Nyandoro blamed what he termed Mujuru's unnamed detractors for fomenting "deliberate mischief" to "cause confusion and disharmony between MDC-T and NPP's leadership and party supporters".
"We have not signed any MoU with Morgan Tsvangirai and his party… She did not make such pronouncements, she did not endorse Tsvangirai as the leader of the coalition," he said.
"These are deliberate mischiefs to cause confusion between MDC-T and NPP's leadership and party supporters."
The contradictions are likely to come as good news to Zanu PF, whose leader, Mugabe last Friday mocked the opposition parties' "grand coalition", satirically saying it would result in a "grand defeat".