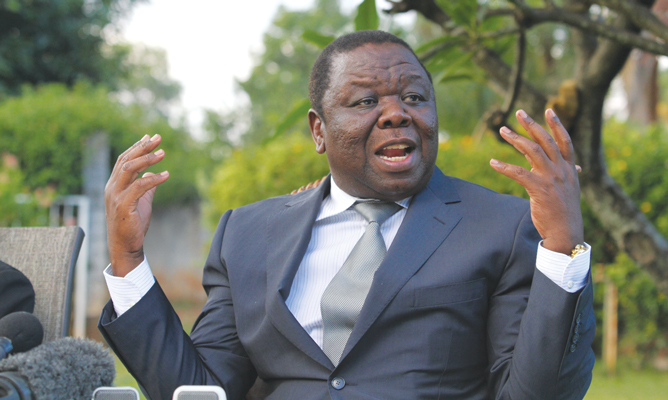 FORMER Vice-President Joice Mujuru has endorsed MDC-T leader Morgan Tsvangirai as the most suitable person to face President Robert Mugabe in next year's election as the candidate for all opposition parties that have signed up to the proposed grand coalition.
By Tatenda Chitagu
Mujuru, who now leads the National People's Party (NPP) following a nasty fallout with Mugabe in 2014, yesterday told female party members in Masvingo that Tsvangirai had the political clout and commanded a large following.
"We agreed with the MDC-T to sit down and discuss," she said.
"We signed a memorandum of understanding (MoU) with Tsvangirai, which has a roadmap that we agreed on which outlines the strategy. We also tabled our differences and resolved them."
Mujuru then went into the details of the agreement, which could see Mugabe facing a strong coalition for the first time in his long reign.
"We agreed that one opposition presidential candidate, representing all parties, will stand against Mugabe," she said.
"We also agreed on the leader of the coalition, the qualities, the expectations of that person before and after the polls. That person should be a unifier, someone who does not backtrack or sell out and should carry the ideals of the coalition. And that person should have the confidence of the majority.
"We said the MDC-T is better at mobilising people. There is no other party, apart from NPP and the MDC-T, that can mobilise a lot of people apart from Zanu PF itself.
"There are a lot of parties, but some of the parties were created by some handlers in the government to cultivate a false sense of multi-party democracy, so whatever those parties do, they want to please their boss (Mugabe).
"We know a coalition is the best to stop Zanu PF from rigging. If we go into the polls fragmented, as the opposition, we give leeway to Zanu PF tricks."
Tsvangirai, on the other hand, has previously confirmed his good working relationship with Mujuru, but intimated that the proposed coalition leader would be chosen by the people.
Several opposition parties have informally endorsed the proposed coalition pact, but are yet to agree on the candidate to stand against Mugabe in the 2018 crunch polls.
The coalition is likely to rattle Zanu PF, which is currently dogged by serious infighting over Mugabe's successor.