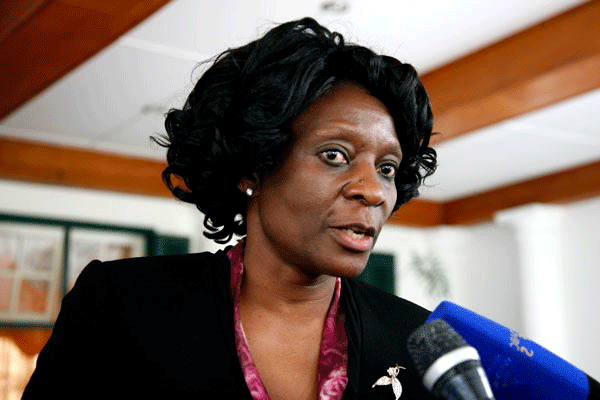 The Morgan Tsvangirai-led MDC-T has filed an urgent chamber application at the High Court seeking to compel the State Procurement Board (SPB) to conduct site validation tests and publicly disclose its chosen supplier for the provision of the biometric voter registration (BVR) kits.
BY CHARLES LAITON
The opposition party said the SPB must complete the necessary contractual formalities on or before April 17 this year.
The party's application followed the Zimbabwe Electoral Commission (Zec) announcement that government had dumped the United Nations Development Programme (UNDP) in the procurement of the BVR kits and instead handed over the control to the SPB.
MDC-T argued the move by the country's electoral body was in violation of section 235 of the Constitution.
"Any such surrender of control by the first respondent (Zec) in preparing for elections is unconstitutional, as the first respondent must stay independent and take orders and directions from nobody else and nobody (save a court to stop Zec breaking the law) may interfere with Zec's functioning," MDC-T national secretary for elections in the dialogue with Zec, Murisi Zwizwai said in his founding affidavit.
"Moreover, it will also be illegal because it contravenes the Procurement Act in many ways … as Zec is now a constitutional body, and not a statutory body. It is not a procuring entity as defined in the Procurement Act."
Zwizwai further said instead, Zec must carry out its constitutional duties to register voters and compile voters' rolls without delay, adding it was "now departing suddenly from its own time-line required to do so".
"Zec presently has no current valid voters' rolls for all Zimbabweans, yet general elections may be called lawfully at any time on under 90 days' notice … so Zec legally has to start to register voters and compile rolls urgently," he said.
"We hope after perusing this application, respondents (Zec and its chairperson Justice Rita Makarau) will acknowledge that pledge was correct and Zec's procurement of BVR kits via the electronically-based UNDP process must be allowed to continue as pledged then, with no more interference or delay,"
In the application, MDC-T together with one Takudzwa Mavure, a prospective voter, cited Zec, its chairperson Justice Makarau and the SPB as respondents.
"This is an application seeking to compel third respondent (SPB) to conduct site validation tests and publicly disclose its chosen supplier for the provision of BVR kits and consummate the necessary contractual formalities on or before April 17, 2017," the party said.
"Further, applicants seek to be furnished with electronic copies of specific documents used in the tender process. This application concerns Zec's procurement, via electronic tender, of BVR kits specialist equipment urgently needed for voter registration."
According to the MDC-T, a procedure using a UNDP system and funds was agreed in advance with government and stakeholders together with itself whereby electronic documents supplied to possible bidders included the terms, conditions and selection criteria to be applied to all tenders.
The party said 12 electronic tenders were received, but seven were not technically compliant, leaving five to be evaluated by experts.
MDC-T said Zec shortlisted three of the five candidates for a full week of site validation tests (field tests) and of those three, the lowest successful bidder should have been the supplier in line with the tender rules.
However, MDC-T further said when Zec's shortlist of three was expected to be made known, Justice Makarau said government had taken over funding of the procurement process.
"This application is made as, on the eve of the day Zec was due to announce the supplier, State media quoted second respondent (Justice Makarau) as instead announcing that Zec had abandoned procuring the kits in liaison with UNDP and had handed over control of its site validation tests, selection for the BVR kits and control over when each of these will be done, to third respondent," the party said.
"Both Zec and government initially accepted this in entering a tripartite agreement with UNDP to procure BVR kits through the UNDP process and Zec's legal status has not changed. Hence, SPB will be acting ultra vires the Procurement Act if it takes over any part of the Zec's procurement process."
The party said on Friday last week, as it was finalising the urgent chamber application, Justice Makarau sent a letter saying government would not take over procuring the BVR kits, but confirmed it was now providing the funds.
The party further said the disclosure by Zec that "those who were involved from the beginning will be considered" takes the whole BVR tendering process and voter registration back 10 weeks to January 17 and not forward as was urgently required.
"Clearly, all stakeholders will suffer irreparable harm if such a reversal is allowed and SPB now controls field testing and procurement procedures and can select the BVR supplier, even from among the tenders already expertly evaluated and eliminated in accordance with the tender procedures they all accepted," the party said.
The matter is yet to be heard.