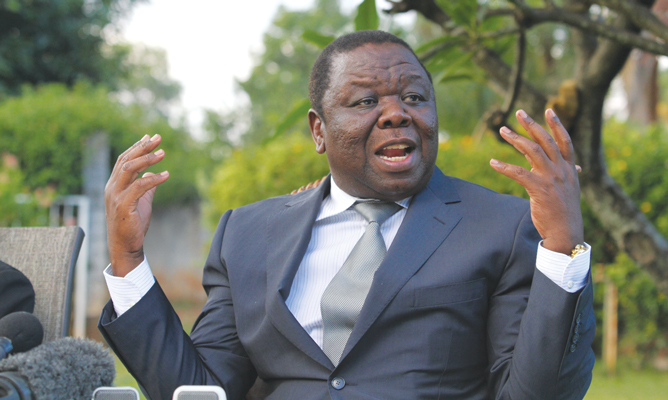 THE United Nations has dealt a heavy blow to opposition calls for government to desist from taking over the procurement of biometric voter registration (BVR) kits after the world body stated the move was key for Zimbabwe to be self-sufficient and to fund its national projects.
BY BLESSED MHLANGA/OBEY MANAYITI
The move by the UN came as 20 opposition party leaders were expected to meet today for a crisis meeting in Harare to decide on participation in the 2018 elections following a fall-out with the Zimbabwe Electoral Commission (Zec) over electoral reforms and the BVR kits procurement.
Briefing journalists in Harare yesterday, UN resident co-ordinator Bishow Parajuli gave the thumbs-up to government – a move likely to anger opposition parties which were pushing for UN and Sadc-monitored elections.
"The issue of BVR, you know, we work on request from government ABC. Whatever and all UN programmes are joint programmes between government and the UN, so government always has the priority," Parajuli said.
"We will do this and you will do that, so we respect it and actually we commend government for coming forward with the resources for national programmes. This is wonderful and key for sustainability, so we very much welcome that."
Opposition parties, among them the Morgan Tsvangirai-led MDC-T, have been angered by the Zanu PF government's latest move to ditch the United Nations Development Programme (UNDP) in the procurement of BVR kits ahead of the watershed 2018 harmonised polls, saying it was a ploy to rig the polls.
Through the National Electoral Reform Agenda (Nera), the parties had vowed to escalate demonstrations and court challenges until the government, whose coffers were dry, ceded the role of buying the kits to UNDP.
Parajuli, however, said the UN's job was to help government which should always take the lead in all developmental projects while organisation follows behind.
"Our role is to support development in Zimbabwe in partnership with the government. We are behind government and follow the development channel of Zimbabwe," he said.
Parajuli also dismissed allegations that the UN was behind a ploy to rig Zimbabwean polls or funding regime change agendas.
He said all its efforts were done in agreement with President Robert Mugabe and his government.
Chief Secretary to the President and Cabinet Misheck Sibanda said Mugabe's office had worked well with the UN despite spirited attacks from the State-controlled media.
Yesterday, almost 20 parties confirmed they would participate at today's Zec and political parties engagement platform, which was abandoned last week after the electoral body's chairperson, Justice Rita Makarau, stormed out of the meeting, claiming she was being abused.
But political parties raised concern over the manner she was preparing the 2018 elections.
MDC-T secretary-general and Nera head of legal services Douglas Mwonzora said after last week's demonstration, Zec responded to some of their demands.
"About 20 political party leaders have confirmed (attendance). Coalition is not the issue we are discussing tomorrow. We are discussing a specific programme on elections," Mwonzora said.
Nera convener Farai Mbira said they wanted to find each other first and come out with a collective position. He said all opposition leaders willing to fight for electoral reforms were welcome to attend the meeting.
People's Democratic Party spokesperson Jacob Mafume said: "The meeting is to discuss broadly the next steps for the opposition to ensure they get a free and fair election from Zec. We need to have a common way forward for the elections and electoral reforms."
MDC spokesperson Kurauone Chihwayi said his principal, Welshman Ncube, would attend the meeting.