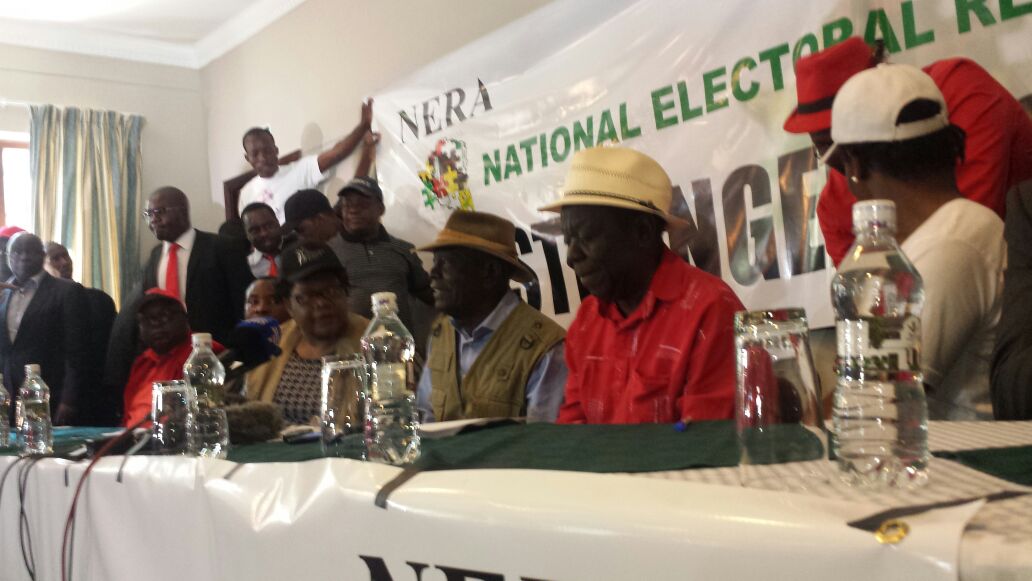 OPPOSITION parties under the banner of National Electoral Reform Agenda (Nera) have spurned the move by Zimbabwe Electoral Commission (Zec) to pacify them ahead of their planned demonstration next week through an all-political parties meeting a day before the protest.
BY OBEY MANAYITI
Nera has vowed to go ahead with their planned demonstration next Wednesday, describing the Zec's move to summon them for a meeting on Tuesday as a ploy to hoodwink them from protesting.
This comes at a time when the Joint Operations Committee (Joc) has also summoned Nera for a meeting on Monday ahead of the Wednesday demonstration.
Nera is protesting against the decision by government to hijack the procurement of the biometric voter registration (BVR) kits from the United Nations Development Programme.
MDC-T secretary-general and Nera legal chief Douglas Mwonzora said the two meetings would not stop them from expressing dissatisfaction against the government.
"The demonstration against the government's move to take over the BVR kits procurement process is going ahead in Harare on the 22nd of March. In an effort to stop the demonstration, Zec has called for an all-political parties meeting on the 21st of March," Mwonzora said.
"Further the Joc has called for a meeting with the Nera leadership on Monday the 20th of March. These invitations will not make us abandon our demonstration at all. This is a demonstration to stop the rigging of the 2018 elections.
"It is a demonstration of the outrage of our people against the prospective theft of their vote. Zimbabweans have expressed immense support for this demonstration. We call upon all people to come to this peaceful demonstration," Mwonzora said.
He said those not able to join the demonstration should stay at home and not disturb the demonstration.
Mwonzora said they were aware of intimidation tactics being employed by State agents, but said they would overcome.
"We are aware that in their panic, State agents are trying to intimidate our people from coming to the demonstration. That pathetic move won't work. This is the time when our people should unite. Together we will win," he said.
The opposition parties have already indicated they would not only boycott the 2018 plebiscite if a biometric voter register is not produced, but also disrupt the polls accusing Zanu PF of dragging its feet on earlier agreements so that it would have an opportunity to rig the watershed polls.