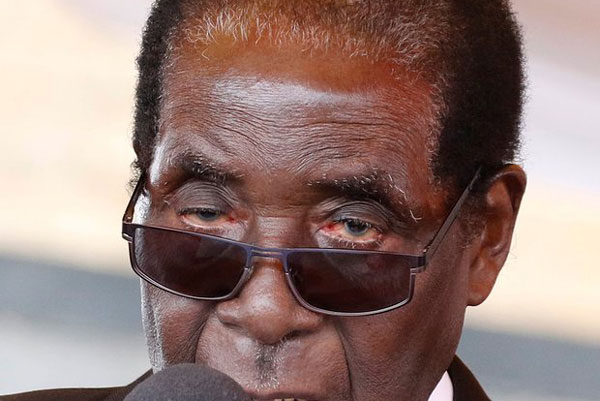 PRESIDENT Robert Mugabe reportedly sneaked out of the country early yesterday for medical check-up in Singapore, with his entire family having already left on Monday, top government sources told NewsDay.
BY RICHARD CHIDZA
First Lady Grace reportedly flew out of Harare on Monday to organise a charter flight for the 93-year-old leader, who is believed to have been in bad shape.
Presidential spokesperson, George Charamba did not respond to questions sent to him by NewsDay. He, however, confirmed to the State media that Mugabe indeed left the country for a "scheduled" medical review in Singapore.
"His excellency the President left this morning for Singapore for a scheduled medical review. We expect him back in the country next week," Charamba was quoted as saying last night.
Vice-President Phelekezela Mphoko is the acting President.
Sources told NewsDay that the First Lady flew out on Monday to organise a charter flight from Dubai as Mugabe was reportedly unable to use Air Zimbabwe.
"It's a tricky health situation. The usual Boeing 767 is awaiting a C-check (major aircraft service) which requires over $150 000. The airline does not have this kind of money now," an official said. "He could also not use the Boeing 737 because it would require stop-overs every four hours to refuel and other technical check-ups."
Mugabe and his children who are reportedly in Dubai, have become visitors to Zimbabwe spending most of their time out of the poverty stricken country run-down by the Zanu PF leader's policies.
Although it could not be established which airline Mugabe had flown, the Zanu PF strongman reportedly left the country around 2am yesterday.
"He left at 2am this morning (yesterday) after being delayed for hours because he was supposed to have flown out just after Cabinet (on Tuesday) but the chartered plane arrived late. The President could also not travel commercial because of health reasons. Vice-President Phelekezela Mphoko is acting President," another source said.
A source at the Harare International Airport also confirmed Mugabe had stealthily left the country using a chartered plane.
"There was heavy security and people were not allowed around the runway at the time he left. The plane came from outside. It's definitely not an AirZim because their planes are all here," NewsDay was told.
Efforts to get comment from Air Zimbabwe chief executive officer, Ripton Muzenda drew a blank, as his mobile phone went unanswered while board chairperson Chipo Dyanda was not picking her phone.
While officials claims, Mugabe frequently travels to the Far East to have eye-check-ups, there are reports that he is afflicted by not only old age but also prostate cancer.
During celebrations to mark his 93rd birthday in Matabeleland South's Matobo district last week, Mugabe looked jaded and frothed at the mouth as he gave his speech.
Mugabe just recently returned from a month-long annual holiday from the same part of the world, which according to insiders also included routine medical check-ups.
Government business comes to a standstill whenever the President is away. Cabinet has met on three occasions since his return including this week before another jaunt.
The Zanu PF leader's continued trips outside the country have been blamed for bleeding an already desperate situation.
Mugabe is expected back in the country on Monday.