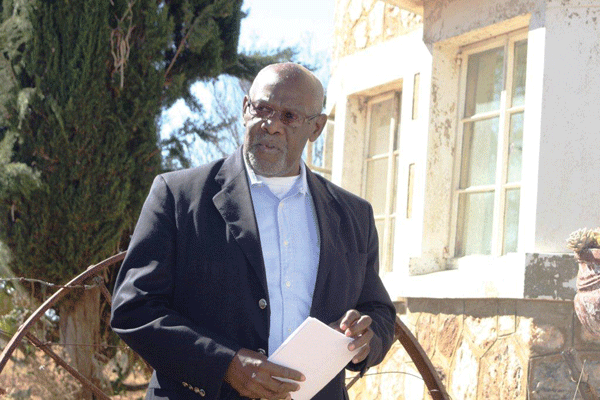 FORMER Cabinet minister, Dumiso Dabengwa's opposition Zapu will start confronting traditional leaders implicated in partisan food aid distribution, citing frustration by government workers' inaction on perpetrators.
BY NQOBANI NDLOVU
Reports abound that traditional leaders, working in cahoots with Zanu PF supporters, deny suspected opposition party supporters in rural areas food aid, despite President Robert Mugabe's public pronouncements that no one would be denied food.
On Sunday, Zapu officials descended on Bulilima East constituency, visiting Entenjaneni area, Ezihwabeni and Manara, confronting village heads in the three areas accused of denying opposition party supporters food aid.
The officials threatened to take matters into their own hands "if the practice is not stopped".
Zapu spokesperson, Iphithule Maphosa said the opposition party will not stand idle while their supporters were being denied food aid, adding they were ready to "deal with the perpetrators".
"Drought relief is distributed on party membership basis, with just cameo distribution to one or two individuals to try and hide this crime," he said.
"Food distribution is done by party functionaries, who are also self-imposed village heads.
"As Zapu, we have reason to believe that their sole instruction is to intimidate innocent villagers into voting for Zanu PF. These criminals extort cash from the poor villagers on the pretext that they will qualify for drought relief. This money is then used to fund Zanu PF functions. This is criminal. Zapu is going to put a stop to these criminal activities."
Zapu Matabeleland South chairperson, Matthew Sibanda said: "We will never allow these election-rigging machinations to continue and we will use every available option to bring the culprits to book and enforce equality in our communities.
"Food aid is from international donors through government and it is criminal for Zanu PF to monopolise it and benefit only its members. Zapu Matabeleland South has resolved not to tolerate this nonsense."
Public Service deputy minister Tapiwa Matangaidze was recently left with egg in the face after former Zanu PF Mashonaland West provincial chairperson and Norton independent lawmaker, Temba Mliswa told Parliament he had been told to deny food aid to opposition supporters before he was kicked out of the ruling party.
Headman, Elliot Mpofu of Entanjaneni village, denied the charges, saying: "It is true that we asked villagers to pay $2 each for the transportation of the maize meal. However, not everyone who paid the $2 got the maize. Only 26 homesteads, out of 200 benefited from the food aid scheme.
"It is not true that we (the committee) trimmed the list. It is also not true that only opposition supporters were denied the maize meal, as even Zanu PF supporters did not get it. But, those villagers, who did not get the maize can claim their money, while we (as committee) also investigate why others did not benefit."
Efforts to get comment from Philathi Ncube, the Ezihwabeni headman and residents' chairperson, as well as Raphael Ncube the Manara headman drew blanks.