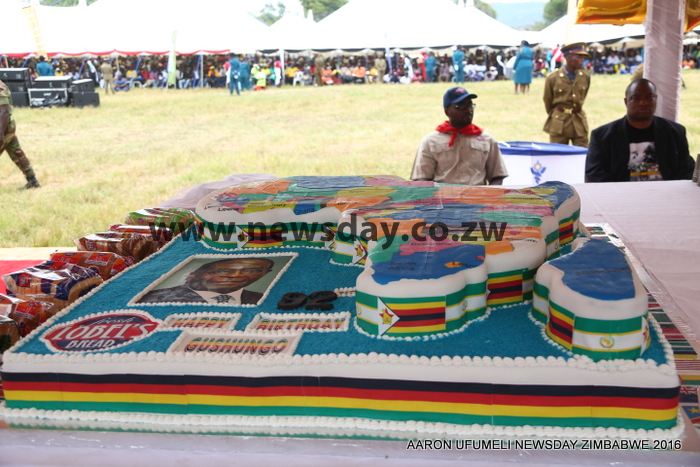 THE Zanu PF government has allegedly ordered all civil servants and schools throughout the country to make cash and kind donations towards President Robert Mugabe's 93rd birthday party to be held in Matobo, Matabeleland South province, on Saturday.
By XOLISANI NCUBE
According to a leaked memo, dated January 2, 2017 and addressed to school heads in Manicaland province, each civil servant is expected to fork out $1, school development committees (SDCs) $10, secondary schools $15 and boarding schools $100.
The memo was written by a public service district inspector for Nyanga.
"To all heads, the 21st February Movement is seeking donations towards the President, His Excellence, Cde RG Mugabe's 93rd birthday to be held in Matopo's on February 21, 2017 as follows, civil servants, $1 per person, SDCs (primary schools) $10, secondary schools $15 and boarding, $100," the memo bearing a Primary and Secondary Education ministry date stamp read.
"The money is payable to the district accountant Ms Munodawafa and the deadline is February 15, 2017."
The Amalgamated Rural Teachers' Union of Zimbabwe (ARTUZ) confirmed that its members were being forced to bankroll Mugabe's feast.
"Teachers in rural schools of Matabeleland South province are being forced to 'donate' for President Mugabe's birthday bash to be held in Matopos later on this month," ARTUZ president, Obert Masaraure said.
"Thousands of teachers in the province have been fleeced by Mugabe in schools such as Mawabeni Primary and Secondary, Mzingwane High School, Mvuthu Primary and Secondary, Mbalabala secondary, among many others," the union alleged.
"We will be taking all measure available to us to protect our members and for them to reclaim their hand-earned cash."
But, Zanu PF national youth secretary for finance, Tongai Kasukuwere, yesterday distanced his party from the document, saying the only people mandated to collect donations for Mugabe's birthday bash were "designated party members".
"We appeal to our people not to part with their money without authenticating with us or party leadership in their provinces. From the national leadership and on behalf of the fundraising committee, we are not involved in anything like that," he said.
Last Friday, the youth league hosted a dinner dance to fundraise for Mugabe's annual jamboree, whose budget this year is estimated at $1 million.
Each province, according to insiders, was tasked to raise $25 000 towards the function and other goods and foodstuffs, while various government institutions and parastatals have received directives to donate to the event.