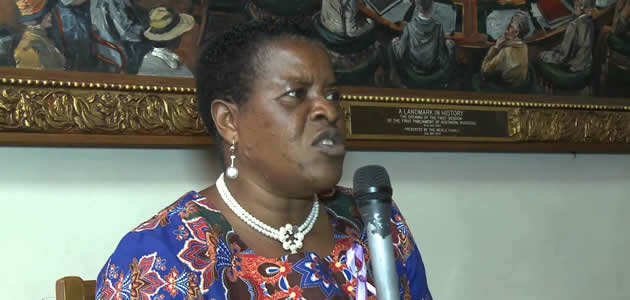 HUNDREDS of villagers in Maphisa, evicted last year to pave way for an Arda expansion project in Matabeleland South are not guaranteed compensation, Lands and Rural Resettlement deputy minister, Berita Chikwama has said.
By NQOBANI NDLOVU
Villagers of Zvehamba, Matankeni and Mahetshe in Matobo district are engaged in a bitter land dispute with Arda Antelope Estate, amid accusations that the latter is illegally grabbing their land to pave way for its joint farming venture project with petroleum giant, Trek.
The joint venture project between Arda and Trek Petroleum will see farming operations being expanded by a further 400 hectares, a development frowned upon by villagers at Zwehamba, Matankeni and Mahetshe villages.
Chikwama said the said land belongs to Arda, accusing the villagers of illegally settling on private property, "On alternative allocation of land, the ministry cannot give an assurance that they are going to provide that because this land was allocated on an agreement long back that they were going to use the land which Arda was not using at that time until it was ready to use it," she told Senators on Thursday.
Chikwama was responding to a question by Senator Sithembile Mlotshwa on whether the government will provide compensation to evicted villagers.
"The area in question belongs to Arda and is clearly demarcated on the ground. This area is adjacent to communal areas. When Arda took occupation of the area in 1947, they did not take up all the land that was allocated to them. Arda had an agreement with the community that they can temporarily utilise the land that was not under its immediate use.
"However, the advent of command agriculture has seen Arda reclaiming all their land, hence, resulting in evictions/conflict," she said.
Mlotshwa and several other villagers last year staged a demonstration at the Arda Antelope Estate over a land dispute, resulting in their arrest.
The villagers last year filed a High Court application suing Arda for allegedly invading their ancestral lands and annexing it for expansion of the joint venture project.
Arda and Trek Petroleum, however, challenged the application, accusing the villagers of encroaching into Arda's land. Arda claimed it acquired the disputed land during the Rhodesian era in 1947 when it was operating as Telcor.
High Court judge, Justice Martin Makonese indefinitely reserved judgment in the case.