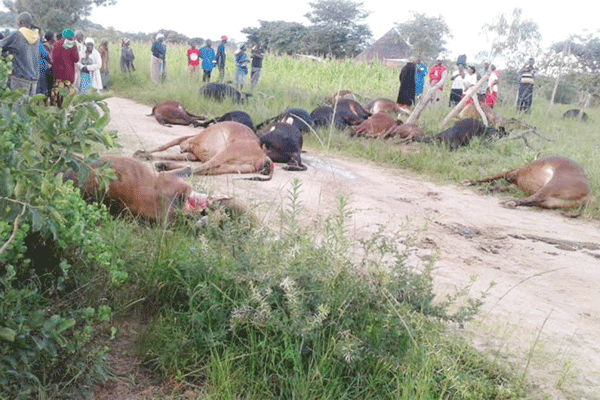 THREE families from Chikomba district in Mashonaland East province, were left shell-shocked on Saturday after their 19 beasts worth about $10 000, succumbed to a bolt of lightning.
Own Correspondent
Mable Njowa of Masendu Village lost 10 beasts, while brothers Masiyiwa and Martin Juru of Munhundorima village lost four beasts each in a mid-afternoon incident that has left villagers in panic.
Chikomba district acting livestock production and development officer, Cosmas Ratsakatika, said the incident occurred close to the families' homesteads in headman Neshangwe's area, 60km north-east of Chivhu.
The incident came shortly after a bolt of lightning killed two students and injured 83 others at Chinatsa Secondary School in Marondera district, last month.
Ratsakatika said, two years ago a Feasterstone farmer lost nine head of cattle under similar circumstances.