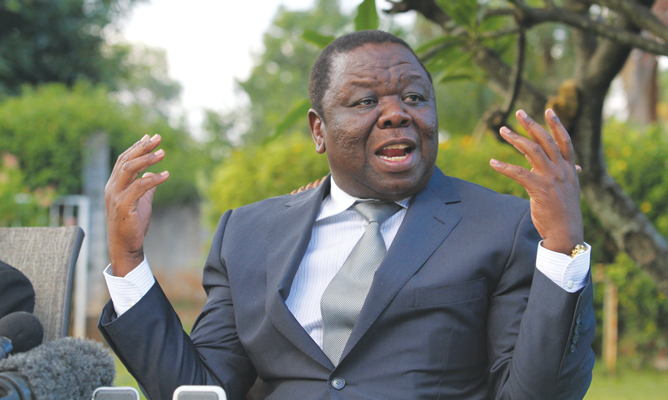 Government has, in a last-minute move, ditched the United Nations Development Programme (UNDP) in the procurement of biometric voters' roll (BVR) kits, preferring to do this on its own instead of through the UN agency.
BY BLESSED MHLANGA/KENNETH NYANGANI
The move is likely to outrage opposition parties and leaders, who are calling for electoral reforms, among them MDC-T president, Morgan Tsvangirai, who was yesterday pinning hopes of an improved playing field on a UNDP-facilitated BVR.
The cash-strapped government had failed to fund the procurement of the kits, prompting UNDP to step in.
Zimbabwe Electoral Commission (Zec) chairperson, Justice Rita Makarau, yesterday said after the tendering process held by UNDP, the government had decided that it would now buy the kits using its own resources.
"Government has come on board and will fund the acquisition. They came and decided that they will now buy the kits.
We don't know why they came in now, you will have to ask them. But we are happy that the government is picking the tab because elections are supposed to be funded by the government," she said.
Makarau said the tendering process had been handled by UNDP on their e-platform from Copenhagen, Denmark, and 12 companies had expressed interest in supplying the kits, of which, seven failed to qualify on technical reasons.
"Of the five, three of the lowest bids will be invited to Zimbabwe for evaluation and site validation tests.
Thereafter, one supplier will be chosen," she said.
Zec said it would continue to partner with UNDP for the exercise, which needs almost $50 million to complete.
The $50 million will cover the voter registration process up to the production of the final voters' roll.
If all things go according to plan, Zec expects to have completed all processes and be ready for elections by November 2017.
Meanwhile, earlier, Tsvangirai said his party was still worried about the possibility of vote-rigging by Zanu PF. Addressing journalists in Mutare, Tsvangirai said UNDP was set to provide $200 million for the BVR kits.
"People are concerned with the endorsement that comes from Sadc and the African Union when the elections are not free and fair. So the issue of monitoring the election is very critical," he said.
"We want to ensure the involvement of UN. They are going to spend $200 million towards buying of biometric equipment. People are concerned with the potential for rigging, especially that we are going to introduce the new electoral system, biometric, which takes a picture and fingerprints. People want to know if it is an improvement from past electoral practices."
Tsvangirai was touring Manicaland to meet traditional leaders and MDC-T officials to consult them on the proposed coalition with other opposition parties.