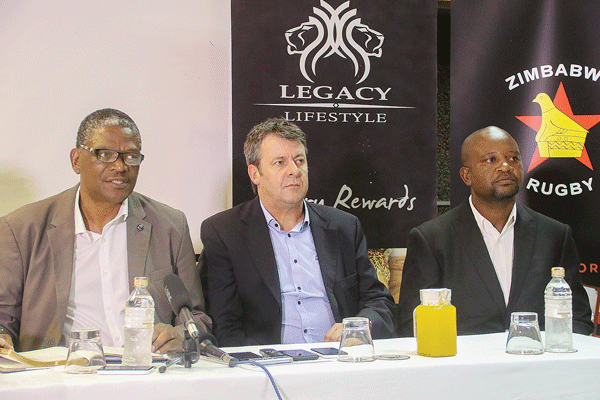 KWESÉ Sports head of production, Louwrens Rensburg believes the inaugural Kwesé Victoria Falls Sevens rugby tourney will go a long way in not only stimulating the growth of the game in Zimbabwe, but also in promoting sports tourism in the world-famous resort town.
BY DANIEL NHAKANISO
The Kwesé Victoria Falls Sevens was launched in the capital yesterday with Econet Media's pay-TV service Kwesé TV announcing a five-year partnership agreement with the Zimbabwe Rugby Union (ZRU).
The debut edition of the tournament, which will feature eight yet-to-be-confirmed national teams, will take place at Elephant Hills Hotel in Victoria Falls from March 18 to 19.
The matches will be available through Econet Media's pan-African entertainment platform that includes broadcast, mobile and internet-based viewing options.
Rensburg, representing Kwesé Sports during the unveiling ceremony, said: "We were involved in the Namibia Sevens and we just thought, from a regional point of view and as a pan-African broadcaster, Zimbabwe Rugby Sevens was a good choice.
"The Zimbabwe Sevens rugby side has competed regularly on the world circuit and we hope that our contribution, from a broadcasting point of view, will help not only the growth of Sevens rugby, but also help boost sports tourism in Zimbabwe. Victoria Falls is a fantastic place, we were out there a couple of weeks ago, it is an absolute treasure that Zimbabwe has to showcase to the world," he said.
ZRU president, Nyararai Sibanda said preparations for the hosting of the inaugural tournament were already underway, as they had already set up a local organising committee.
"We have a local organising committee headed by Victor Rakabopa [Matabeleland North provincial chairperson] that is working hard to put the event together. There are busy on the ground taking care of the necessary logistics to ensure that everything is in place. Other than Kwese Sports, we have other partners that are coming on board that will make this event possible and successful. We look forward to seeing the tournament growing and ensure it becomes a regular feature on the World Rugby and Rugby Africa calendar," he said.
The launch of the Kwesé Victoria Falls Sevens comes after Zimbabwe endured a disappointing Africa Cup campaign, finishing behind eventual champions Uganda, Kenya and Namibia.
Sibanda reckons the establishment of a high-profile local tournament will be the first step towards reviving the team's fortunes.
"If you look at the teams that have been successful in Sevens rugby, you will notice that they have a home event that is very significant and that on its own promotes interest in the sport from the grassroots to the top level.
We thought if we organise our own tournament, we are creating a strong foundation for ourselves," he said.
The Zimbabwe Sevens side is targeting to qualify for next year's Rugby World Cup Sevens to be held in San Francisco in the United States as well as the Tokyo 2020 Olympics.