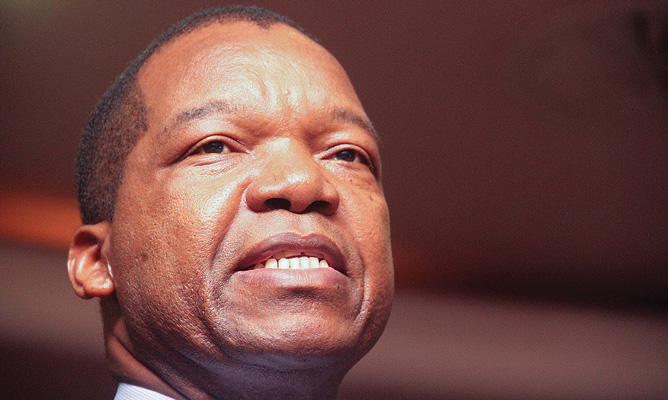 THE Reserve Bank of Zimbabwe (RBZ) redistributed $370 million through the normal banking channels to production companies in the period August to December 2016, out of the $2 billion earned, showing severe foreign currency constraints, which are hampering local producers.
BY TATIRA ZWINOIRA
Speaking to guests at the inaugural Gold Sector Awards on Friday, RBZ governor, John Mangudya said the remainder of the foreign exchange went to various transactions with a majority gobbled by current transactions through the usage of Visa cards and MasterCard.
"You may want to know, that between August and December last year out of the $2 billion that was disbursed to various firms in Zimbabwe in utilisation $370 million was disbursed by the RBZ through the normal banking channels back to the companies that are in production. The $1,6 billion was utilised by banks for various transactions. This economy over the past five months to December utilised more than $300 million in current transactions through Visa and MasterCard," he said.
"Many people think that the Reserve Bank allocates 100% of the foreign exchange in this economy. The truth of the matter is that the RBZ redistributes between 25-30% of the foreign exchange earnings in this country. What happens is that when Visa and MasterCard are used, they hit the nostro accounts. Whilst others are exporting for productivity others are busy using cards."
Mangudya said the continued usage of these cards was contributing to the challenges in adequately allocating foreign exchange funds as they were not going back into productivity. A number of local banks have restricted the use of Visa and MasterCard for local transactions. They have also put caps on foreign transactions using Visa and MasterCard.
During the five months under review, 68% of manufacturers that depend on foreign raw materials complained about making late payments to their foreign suppliers due to delays in accessing foreign currency.
For months, the Confederation of Zimbabwe Industries (CZI) has been advocating for speedy disbursements of foreign currency for producers to make payments to their foreign suppliers.
As such, CZI president, Busisa Moyo is on record saying that the organisation has held many meetings with the RBZ to seek solutions.
The delays are causing companies to miss production deadlines, which were in turn making them lose revenue, with some facing a risk of shutting down.
Foreign payments delays will be on discussion when CZI convenes the 2017 economic outlook symposium to be held in Harare on Thursday. Representatives from the central bank are expected to be part of the discussants at the symposium.
Mangudya said the economy has to earn foreign currency to be able to produce.
"Another problem we face in this economy is that we are a highly geared economy meaning we are over borrowing loans which means we are mortgaging high exports of gold without production. We need more equity than loans both from domestic producers and foreign investors," he said.
With production contributing an estimated 13% to the gross domestic product, delays in foreign payments from producers costs the economy about $4,99 million per day.