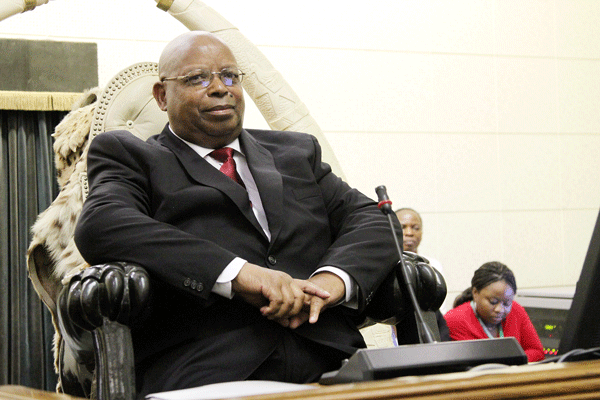 Speaker of Parliament Jacob Mudenda made a very important disclosure two days ago at a post-budget meeting, revealing how a company was being prevented from exporting chrome and in so doing depriving the economy of much-needed revenue.
Comment: NewsDay Editor
Mudenda said the unnamed company was being denied permission to export chrome, yet proceeds from the mineral could rake in between $2 and $3 billion, a massive fortune in Zimbabwe's context, considering that the budget is a little over $4 billion.
Those with a sharp memory will remember that former South African President Thabo Mbeki also revealed that Zimbabwean politicians and bureaucrats were demanding huge bribes to facilitate for South African investors to receive licences to operate in this country.
Examples abound of such cases and yet little or no action has been to stop government officials from short-changing the country, with President Robert Mugabe, at one point, fuming and threatening action, but like with all his previous rants, nothing has changed.
As we have always argued, the problems in Zimbabwe are not external nor caused by sanctions or some other such red herring, but poor leadership that is big on rhetoric, but very small in action.
If the government wanted to promote the country's growth, then there would be no reason to frustrate a company that has the ability to earn the nation $2 billion.
Zimbabwe is desperate for all the money it can get, but bureaucratic red tape and corruption are the biggest impediment to the country earning anything from its natural and human resources.
Sanctions may be removed, but as long as Zimbabwe has a leadership that fails to create a proper investment environment and improve on the ease of doing business, then the economy will not improve and instead the country's leaders will be searching for the latest scapegoat.
It is laudable that the government is seeking to improve on the ease of doing business, but that is not enough on its own and there is need to change government officials' approach to commerce, as there can be no other explanation for curtailing exports other than maladroitness.
There are several such stories of businesses that have been frustrated from either exporting or importing and it is hoped that when such a high-ranking official of Zanu PF speaks, it means the party is beginning to introspect.
We hope this introspection does not just end at workshops and meetings, but is permeated across all civil servants and licensing authorities, that delaying imports, exports or investment is tantamount to shooting ourselves in the foot.