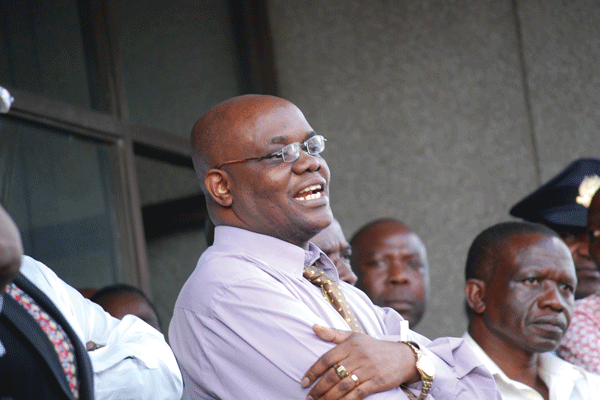 THE long-running salary wrangle between the National Railways of Zimbabwe (NRZ) and its disgruntled workers took a nasty turn last Friday as the parastatal evicted five families from its Rugare staff quarters in Harare, claiming the houses were reserved for other personnel.
BY RICHARD CHIDZA
The affected workers and their families were dumped in the open where they watched helplessly as their belongings were soaked in rain before they were bundled into single quarters following a public outcry from human rights activists.
An NRZ worker, who requested anonymity, yesterday said following the outcry at the weekend by activists on social media, the families were "bundled" into houses meant for single people.
"Four of the families were pushed into accommodation for single people at the main station in town. Authorities then allowed the other family back from where they had been evicted. These people actually slept outside with children in the rain and cold. It was cruel," the worker said.
NRZ acting spokesperson Martin Banda said he was not aware of the incident.
"I have been away over the past week and am actually travelling back from Botswana. Some of these issues had been before the courts and I am not sure if there was a determination," Banda said.
Asked if the NRZ had approached the courts to evict the families, Banda said: "We have a situation in Bulawayo where some tenants were supposed to be evicted because some workers in the security department needed to be accommodated. The Harare issue I am not aware, but some people had also gone to court fighting the evictions," Banda said.
Commenting on the evictions, political activist and former NRZ train driver Linda Masarira said the workers had been treated like slaves.
"These are families of workers who haven't been receiving full salaries for seven years. After committing so much energy and sacrifice to the wholly-owned State parastatal, all they get is suffering and sorrow instead of salaries," Masarira said.
"And it's not that the company is not making money, but that all the revenue is channelled to Zanu PF activities and management allowances. I am deeply hurt by this level of insensitivity by the Zimbabwean government. Zimbabweans deserve better.
"All working men and women deserve to (be paid); their families deserve a home and all kids deserve to learn. No one has title deeds to this country."