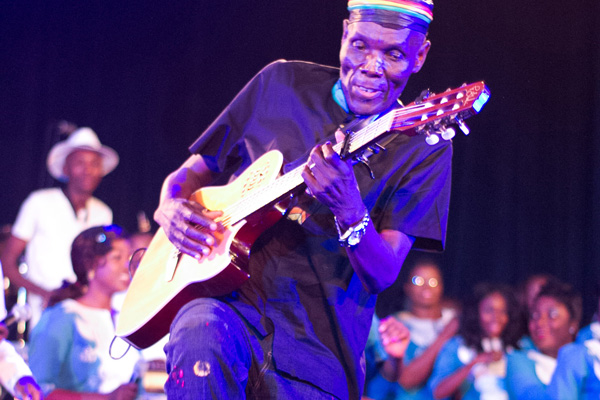 THE festive season brings merrymaking ambiance to many people while musicians' demand for shows also rises, meaning they have to work extra hard to fulfil the gigs.
COMPILED BY WINSTONE ANTONIO
Among the artistes with busy schedules are sungura maestro Alick Macheso backed by his Orchestra Mberikwazvo and sungura exponent Sulumani Chimbetu and his Dendera Kings.
While some will be taking a rest, for other local musicians it will be business as usually entertaining patrons at different functions and concerts.
Fill-Up HICC Concert
High-flying musician Jah Prayzah will be joined by his friends in showbiz tomorrow at the second edition of the Fill-Up HICC Concert set for the Harare International Conference Centre. The potentially explosive gig will feature the grandee of music, Oliver "Tuku" Mtukudzi, dancehall sensations Freeman and Killer T, Thamsanqa Moyo, hip-hop artiste Takura, Ex-Q, contemporary singer Sam Dondo, Mbeu, Nutty O and Judgement Yard Sounds. Mixed Sounds at Margolis Resort
Afro-jazz musician Victor Kunonga, urban groover Pauline Gunduza, Ammara Brown, Djembe Monks, Farai Shelton, Thamsanqa "Tammy" Moyo and Nuty O will usher merrymakers into the new year as they perform at the Mega Fete concert set for New Year's Eve at Patsanga Waterfront at Margolis Resort in Harare. The concert to be held under the theme The New Party Era will also feature surprise top acts from Nigeria, Zambia and Angola.
Unlock the New Year at Cold Block Party
Thousands of merrymakers tomorrow are expected to throng the free-of-charge Castle Lite Extra Cold Block Party organised by Delta Beverages at Westgate Shopping Centre in Harare. The open-air party will be headlined by popular Zambian producer-cum-radio personality Sebastien Dutch, who will share the turntables with DJ Fujee, Judgement Yard, DJ Storm, DJ Liz and DJ Chucknosis alongside hip-hop sensation Tehn Diamond, the Djembe Monks and dancehall chanter Dobba Don.
The Usual Place
United Kingdom-based Zimbabwean jazz musician Tsungi Tsikirai shares the stage with Talking Guitars tonight at The Usual Place bar at Cresta Jameson Hotel in Harare. While some jazz venues have opened up to other genres due to shifting music tastes, The Usual Place has maintained its jazz feel and continues to host a number of jazz musicians.
Sounds of Mbira at CUT Hotel
Mbira queen Hope Masike will be ending the year with a performance at Chinhoyi University of Technology Hotel tomorrow and welcomes the New Year at Dungane Farm in Karoi for a jamboree of mbira fused with dendera as she shares the stage with Sulumani Chimbetu whom she collaborated with on her song titled Tingwarire.
New Ambassador Hotel
One of the pioneering rhumba outfits in Zimbabwe, Diamond Musica, from the Democratic Republic of Congo, headlines the Zim-Rhumba Festival tomorrow at New Ambassador Hotel.
The Congolese rhumba outfit will share the stage with Madiz, BV Labien and sensational rhumba songbird Lady "Eriza" Storm and her Swag band.
Harare Truck Inn
Afro-jazz musician Ashton Tapiwa Nyahora, popularly known as Mbeu on the showbiz circuit, backed by his Mhodzi Tribes, tomorrow performs at the Shut Down party set for Harare Truck Inn in Southerton alongside female club wheel spinner DJ Lyaness.
Time and Jazz Café
Mbira music lovers are in for a treat on Sunday at Time and Jazz Café located at corner Nelson Mandela Avenue and 6th Street in Harare as it hosts one of the living masters of the mbira instrument, Nyamasvisva and his Mawungira eNharira outfit at a concert dubbed Bira Rekutanga Kwegore.
Club 007, Glendale
Sungura maestro Alick Macheso backed by his Orchestra Dendera Kings tonight is in Glendale to entertain merrymakers at Club 007. Tomorrow they take their act to Karoi supported by the Godfather of Sungura Nicholas "Madzibaba" Zakaria before returning to the capital on Sunday to serenade revellers at Extra Mile Leisure Spot.
Private Lounge, Bulawayo
Dendera ace Sulumani Chimbetu tonight will be in Bulawayo to entertain patrons at Private Lounge. On New Year's Eve he takes his latest offering Jamboree to the Jameson Victoria Falls Carnival where he will share the stage with some foreign acts. On New Year's Day he performs at Dugane Farm in Tengwe, Karoi, alongside Mbira queen Hope Masike.
Golden Peacock Villa Hotel
It will be entertainment galore at Golden Peacock Villa Hotel on the New Year's Eve as Mutare-based top wheel spinners will take turns on the turntables to entertain guest at the hotel.