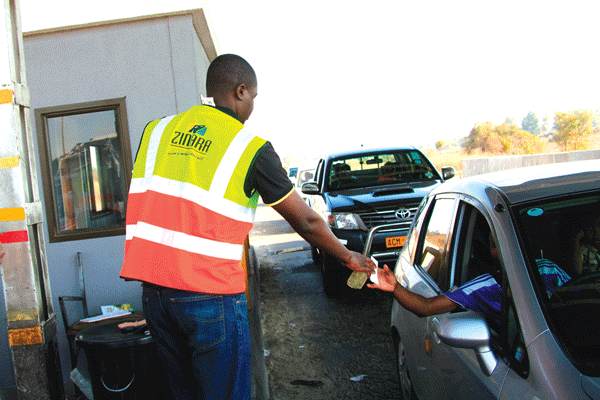 THE planned introduction of prepaid payment systems at nine tollgates along the Plumtree-Mutare Road has reportedly stalled due to bickering between the Zimbabwe National Roads Administration (Zinara) and Intertol.
by VENERANDA LANGA
This emerged yesterday when the two companies manning Zinara tollgates, Univern and Intertol, appeared before the Dextor Nduna-led Parliamentary Portfolio Committee on Transport to explain the delays in the implementation of the system.
It emerged that the 17 tollgates under Univern management were already using prepaid cards, although Intertol had not yet started using the system at its nine tollgates.
Nduna said failure to introduce the prepayment system along the Plumtree-Mutare Road had led to massive loss of revenue through fraudulent activities.
Recently, Intertol fired seven officers in Rusape due to financial leakages at tollgates.
Intertol operations manager, Joseph Mafakune told the committee that his company had installed the equipment, but since September, they had been waiting for Zinara to give them the greenlight to roll out the programme.
"The intention was to run a pilot project for the prepaid payment cards at the Goromonzi and Norton tollgate plazas and then roll out to other plazas and we are ready to commence as soon as Zinara gives us the greenlight," he said.
The committee felt that Intertol was avoiding rolling out the system because the vehicle number plate readers required would cost millions.
Univern chief operations officer, Warren Cohen told the committee that already their 17 tollgates were using the prepaid toll payment system.
"A total of 60 000 prepaid cards were printed and about 6 000 customers (most of them companies) are already using the system," he said.
Cohen said the system is integrated into the Zinara tolling system for accountability and control, adding the equipment at toll plazas has automatic vehicle number plate readers that can tell if a vehicle is using a stolen card.
In a statement presented to the committee, Zinara said since the launch of the prepaid toll card, a total of 3 395 registered cards had been sold.
"Zinara is currently in engagement with Intertol to ensure the two systems are compatible and integrated to enable the prepaid toll card to work across all routes," Zinara said.
The two companies told the committee that they were ready to establish road traffic stabilisation centres, which would be emergency medical centres at toll plazas to attend to road traffic accident victims.