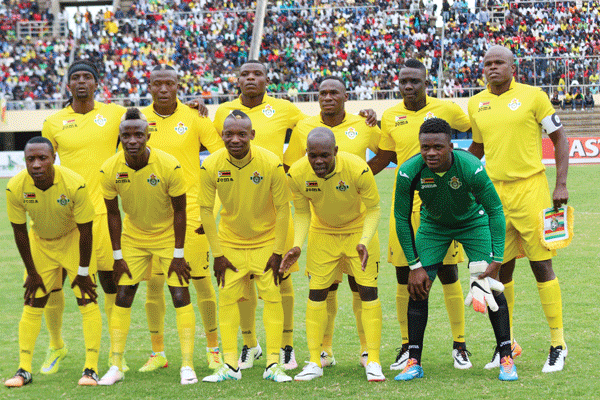 WARRIORS assistant coach Saul Chaminuka believes his team has got the quality and mental strength to go and make a mark at the 2017 Africa Cup of Nations (Afcon) finals that will be staged in Gabon between January and February.
BY TAWANDA TAFIRENYIKA
The Warriors kickstarted their preparations for the tournament in Harare yesterday without head coach Kalisto Pasuwa, who was away in Ivory Coast with the home-based players for an international friendly against the hosts.
Pasuwa, whose Warriors held Ivory Coast to a 0-0 draw, is expected back in the country along with other local-based stars who were called up to the provisional squad for the tournament.
In his absence Chaminuka has been calling the shots and yesterday he was bullish ahead of the finals.
He said even though they would have preferred to have more time in camp with the players, they could still do enough in the remaining two weeks to prepare for the tournament.
"It's two weeks remaining, but I am sure we will can make do with what we have. We will do our best. We can't sit and complain about what could have been," he said. "We have started training in earnest and one of the aspect we will work on in our programme is the attitude. But what I have observed from this group of players from the way we have been working with them, I can't complain about the attitude. These guys are ready to work hard and I am sure they are going to shock Zimbabwe and Africa."
Chaminuka, however, trained with just 14 players while the trio of Belgium-based Knowledge Musona, China-based Nyasha Mushekwi and Khama Billiat, who plays for reigning African champions Mamelodi Sundowns, were yet to join camp.
He said Mushekwi was expected to join camp last night while Billiat should be in today.
In the two occasions that the Warriors participated at the African showpiece in 2004 and 2006, they failed to go beyond the group stages.
Zimbabwe have been drawn in Group B alongside Algeria, Senegal and Tunisia .
Chaminuka said the Warriors would play a warm-up match against a club in Cameroon before they clash with the Indomitable Lions on January 10 in an international friendly. The tournament rolls into life on January 14. Zimbabwe will kick-off their Afcon campaign with a clash against Algeria before taking on Senegal and then wind up their group stage with a match against Tunisia.