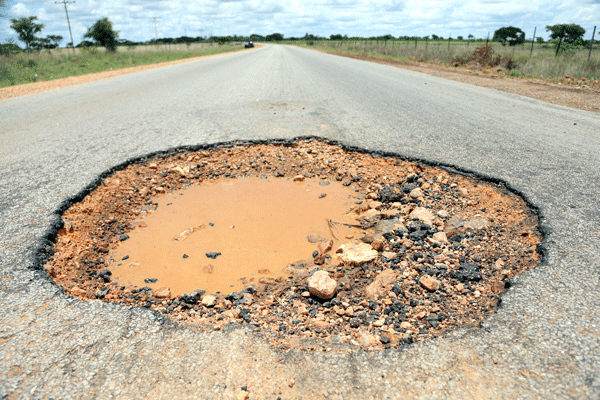 Local Government minister Savour Kasukuwere says only the introduction of urban tollgates will resolve the issue of the dilapidated road network in Harare and other cities and towns in the country.
BY XOLISANI NCUBE
With most roads in urban centres virtually impassable due to potholes, Kasukuwere said he was not happy with the manner in which the Zimbabwe National Road Authority (Zinara) was distributing funds collected for road rehabilitation as most local authorities were being allocated "next to nothing".
"This is a matter that is on my agenda in the coming year, I will engage my colleague Cde Joram Gumbo [Transport minister]. Local authorities are collecting nothing and if you look at the disbursement from Zinara, it is something that we believe as a ministry, we should look at," he said.
Government in 2012 centralised the licencing of vehicles from local authorities to Zinara, but the parastatal has been accused of failing to put to good use the collected revenue.
Kasukuwere told journalists yesterday that his ministry wanted Zinara to increase disbursements to local authorities — especially Harare whose roads are now an eyesore.
Harare City Council expects between $40 million and $70 million per year in vehicle licence fees from Zinara, but the local authority claims it was getting an average of $1m per year, a figure way below the city's vehicle numbers.
"I think we also need to consider the issue of urban tollgates to raise funds and the money should go towards road rehabilitation … that is increasing the revenue base. But first our local authorities must improve on their priority list; I am talking about dealing with service delivery here. In the past we have seen councillors who focus on personal enrichment at the expense of service delivery," Kasukuwere said.
"Also we need a discussion around urban tollgates, it's not a new thing, and it has been done elsewhere. People need to appreciate that there are some vehicles that do not leave Harare and expect the roads to be maintained using tollgates fees, so we need to have the same concept within urban centres so that those vehicles that do not leave our cities, but expect the roads to be rehabilitated could also contribute."
Harare mayor Bernard Manyenyeni has been vocal against Zinara, accusing the parastatal of sabotaging local authorities through meagre allocation of funds and that, he said, had seen them failing to rehabilitate roads.
"This is your baby [Zinara]. Council is out of it! Harare motorists, brace yourselves for high-risk driving.
Potholes are popping up — excuse the sarcasm —everywhere. No road is safe above 60km/hour — certainly in Harare and quite likely countrywide," Manyenyeni posted on his Facebook page.