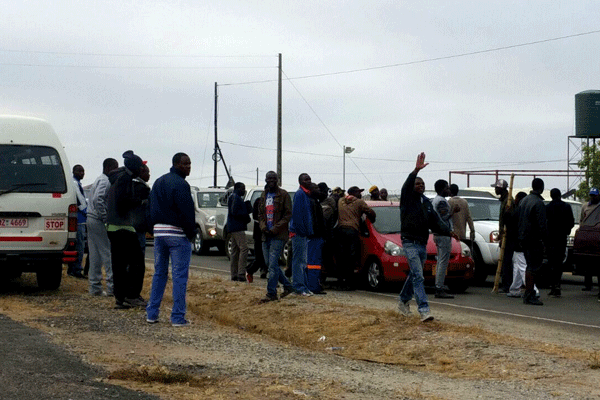 They move around in groups of five to 10 men, singing together, sharing intoxicants among themselves, while hurling obscenities and gesticulating in a certain way to make the environment scary to anyone who dares oppose them all wrestling for passengers.
BY OBEY MANAYITI
These are touts at the famous Mbudzi bus terminus in Harare along the Masvingo highway.
For a very long time, they have been abusing passengers especially women travelling to Beitbridge or South Africa, with impunity.
In their different groups, the touts have no respect for passengers and nearly exchange blows in full view of travellers.
Upon identifying women moving around Mbudzi terminus, the touts, acting like vicious dogs, will scramble to confiscate the passengers' bags and start groping and physically manhandling them as they lead them to their buses.
The tout, who snatches a passenger's belongings, runs and throws them inside a bus. The passenger is left with no option, but to follow and board the bus under this kind of abuse.
In a planned way to get more passengers, the bus conductor will then follow the victim and issue out a travelling ticket.
Those who dare try to stand their ground are subjected to further humiliation, both physical and verbal and rarely do other people come to their rescue.
Last week, NewsDay observed how Mbudzi terminus has been turned into a lions' den where even those going around their chores or boarding local commuter omnibuses are caught up in the cross fire.
One of the women passengers said they now dread boarding buses at Mbudzi.
"We come to board buses here because the crew helps us smuggle goods from South Africa, but the kind of abuse we go through is so bad. Several women had resorted to hiring some people to accompany them here so that they manage to fight back and avoid losing their money. This has been happening for a long time and nothing is being done to bring it to an end it,"Sheila Kazuvi said.
Another female passenger said her colleague lost all the money she wanted to use to buy goods in South Africa for resale during the scuffle with the touts.
Others blamed police for being soft on the touts.
"These are criminals who should be arrested. Several cases have been reported on how they steal, they physically and sexually harass us. Why are law enforcers silent on it," Kudzai Mhunga said.
A Zengeza resident, Pamela Moyo, said she had to spend two hours on a bus after the touts mistakenly took her for someone travelling to Beitbridge.
"They harassed me together with my sister until I phoned my husband to come with a taxi. We got onto one of the bus at around 6:30 pm and only left after 8pm. We had to beg the bus crew to allow us to stay on the bus until my husband arrived," Moyo, who also blamed police for taking no action against the touts, said.
This year two touts operating at Mbudzi roundabout, Chamunorwa Gumboshumba (29) and Shame Ruzha (37), were arrested for allegedly assaulting and causing the death of a 25-year-old pregnant woman, Lyn Chidawaya, who was trying to board a Beitbridge-bound bus.
According to her sister, Liona Misi, who was with her at the time, the two arrived at Mbudzi around 8pm on May 23 intending to get transport to Beitbridge.
"A group of about five to seven touts started harassing us as we tried to board a bus. They punched and assaulted us and out of fear of further harm, we boarded their bus," she told NewsDay in May following the death of her sister.
Zimbabwe Peace Project (ZPP) director Jestina Mukoko said the law must take its course and make public places safer for women.
"If women are abused in public places then if the culprits are caught they need to be punished," she said, making reference to a video that went viral on social media where a certain woman was being abused over a $6 debt.
The man was fined $50, which is not deterrent enough to warn would be offenders.
"The same applies to these touts at Mbudzi that they need to account for their actions. Unless people account for their actions they will continue doing these things. I urge people to identify who is doing these things and identify the buses associated with such and then be able to talk to the owners and tell them that behaviour is unacceptable."
Zimbabwe Women in Politics Alliance (Zwipa) boss Linda Masarira also condemned the victimisation.
"Levels of violence against women have reached a stage where something needs to be done urgently," she said, while reiterating at the sad passing on of a pregnant woman this year.
"As Zwipa we are calling the ZRP to launch an investigation into this matter. Touts are illegal in Zimbabwe why are they still operating? We will petition the Ministry of Home affairs about these issues"
Masarira added: "ZRP has to scale up its response and protection mechanisms for women who are most vulnerable in our society. Instead what we see is the reverse and at a time police are also perpetrating some forms of violence against women instead of protecting them and the general citizens."
Police spokesperson Senior Assistant Commissioner Charity Charamba urged the victims to report their cases to police.
This year Zimbabwe joined the rest of the world in celebrating 16 Days of Activism Against Gender-Based Violence From peace in the home to peace in the world: make education accessible and affordable for women and girls.
The celebrations ended yesterday.