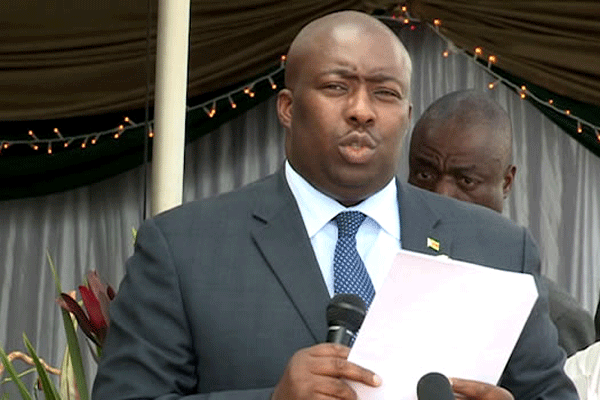 LOCAL Government minister Saviour Kasukuwere (pictured) has become the latest high-profile target of the Zimbabwe Anti-Corruption Commission (Zacc) amid reports that the anti-graft body was digging up his past, particularly murky indigenisation deals.
BY XOLISANI NCUBE
This follows reports that Zacc had set sights on the National Indigenisation and Economic Empowerment Board (NIEEB) following allegations of gross mismanagement of funds held under the National Youth Fund and Community Share Ownership Trust schemes.
Kasukuwere served as Youth, Indigenisation and Economic Empowerment minister between 2009 to 2013 before he was re-assigned to the Environment, Water and Climate ministry and later to the Local Government portfolio.
Informed government sources told NewsDay that Zacc investigators had particular interest on how NIEEB engaged private institutions such as Brainworks, to broker various community share ownership schemes across the country and how the parastatal disbursed funds mobilised for the schemes.
Zacc spokesperson Phyllis Chikundura confirmed the probe, but could not reveal details.
"It's true, we are investigating NIEEB for a number of issues," Chikundura said.
According to the sources, the investigation sought to unearth alleged under-hand dealings involving Kasukuwere and Brainworks' chief executive officer George Manyere.
"The commission suspects that Brainworks was irregularly engaged and that there could be some under-hand dealings involving the minister [Kasukuwere] and NIEEB. They are also looking at how funds generated from community share ownership trusts were distributed," the source said.
But Kasukuwere scoffed at the alleged probe, saying he had a clean track-record.
"For all my past deeds, my present and the future, I am ready for scrutiny," he said.
Although Manyere could not be reached for comment yesterday, he is on record telling Parliament last year that his consultancy firm was handpicked by NIEEB to act as a financial consultant between the agency and mining companies, but went unpaid after the transactions failed to sail through.
In June last year, Manyere appeared before the Parliamentary Portfolio Committee on Indigenisation and Economic Empowerment where he indicated that the initial agreement was that his company would be paid $500 an hour apart from the 2% commission based on the value of every successful transaction.
"In this particular case the transactions were abandoned, there was no success to them. In that context we just felt we also had to abandon the expenses we accumulated," Manyere said.
"I would like to indicate to this committee that we never got paid either by the company that was indigenised or neither by NIEEB. We spent a year working on these transactions. With all the costs of travel, accommodation and time spent negotiating with various companies, we never got compensated."
He revealed that had the Zimplats, Unki, Mimosa and Blanket mines deals gone through, his firm could have raked in over $26 million apart from the $500 hourly consultation fees.
When Kasukuwere was still Indigenisation minister during the inclusive government era, Zacc was reportedly blocked from probing him and other ruling Zanu PF party ministers implicated in corrupt deals.
Early this year, Zacc door-stepped Higher and Tertiary Education minister, Jonathan Moyo, but failed to arrest him as he emerged from a Zanu PF politburo meeting on allegations of defrauding the Zimbabwe Manpower Development Fund of over $430 000.
However, Moyo turned the issue political, and accused Vice-President Emmerson Mnangagwa of pushing his Zacc arrest as part of Zanu PF's succession wars.
Moyo and his G40 cohorts were reportedly accused of leading a spirited campaign to block Mnangagwa from succeeding 92-year-old President Robert Mugabe.
Zacc is also probing Harare City Council for various alleged misdeeds which include the awarding of vehicle tenders and procurement of water treatment chemicals.