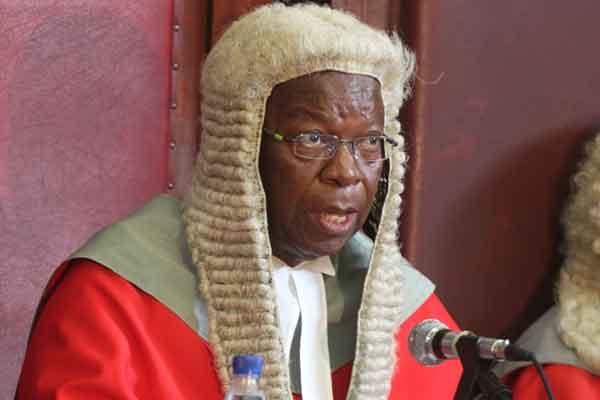 A FOURTH year University of Zimbabwe law student has approached the High Court, seeking to stop next week's interviews for the soon-to-be-vacant Chief Justice position, arguing the process was unfair and was not transparent, in a case likely to shake the Judicial Service Commission (JSC).
BY staff reporter
The student, Romeo Zibani, cited the JSC, President Robert Mugabe, Vice-President Emmerson Mnangagwa, Chief Justice Godfrey Chidyausiku, his deputy, Justice Luke Malaba, Justice Paddington Garwe, Justice Rita Makarau and Judge President George Chiweshe, as the first to eighth respondents, respectively, in summons filed at the High Court last night.
Zibani, who is represented by Venturas and Samukange, said he was challenging the composition of the JSC panel set to interview the fifth to eight respondents.
He said the shortlisted candidates were either friends, colleagues or bosses of the interviewing panel and this could be best described as an "incestuous" relationship.
"Most of the members of the panel are junior to the four nominees, creating a most undesirable state of affairs that will actually destabilise the JSC and the due process," the applicant said.
"In fact, the remaining members of the panel ought to be saved the agony of having to interview their own colleagues."
Zibani said Malaba, as Chidyausiku's deputy, was the JSC deputy chairperson, while Garwe was the outgoing Chief Justice's "social friend" and they both came from the same district.
He said Makarau, the JSC secretary, had worked with Chidyausiku for six years and came from the same district as well.
Zibani further alleged that Chiweshe reported to Chidyausiku and this would make the interviews unfair.
"It is further important for me to set out the current procedure, which I believe is not suitable for the appointment of a Chief Justice, hence, the need to amend section 180 of the Constitution to allow His Excellency (Mugabe) to use his discretion and appoint a Chief Justice of his own," he said.
Zibani said Mugabe could in the interim set up a panel of retired judges to be submitted to the JSC to pick the next Chief Justice, but the ultimate solution was the President choosing the top judge himself.
The JSC is represented by Addington Chinake of Kantor and Immerman, who was not reachable for comment last night.