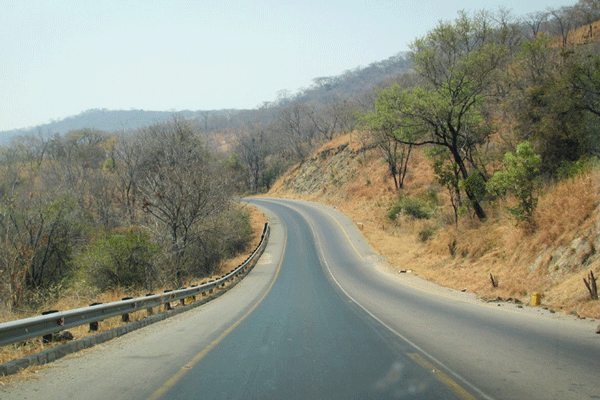 THE Japan International Cooperation Agency (Jica) says it has started a preparatory survey of the Karoi-Chirundu highway with a view to provide a grant for the construction of climbing lanes and improvement of the busy road.
BY MUNESU NYAKUDYA
The Japanese Embassy, in a statement last Thursday, said the project is being done in line with the bilateral agreements signed between Japan and Zimbabwe during President Robert Mugabe's State visit, where he met Premier Shinzo Abe in March this year.
The embassy said the objective of the project was to improve transportation and logistics situation as well as traffic safety on the northern part of the North-south corridor from Chirundu to Karoi by constructing climbing lanes and improving horizontal and vertical alignment of the highway.
"The Jica survey team leader, (Shuntaro) Kawahara, said that the aim of the preparatory survey was to prepare an outline design, which would be necessary for the appraisal of grant aid on the side of the government of Japan. Jica together with ministry of Transport and Infrastructural Development and in particular the Department of Roads, will formulate the best project components," the statement said.
The survey is expected to take one year to complete including conducting three onsite follow-up surveys.
The statement added that the Japanese have been assisting Zimbabwe on the development and maintenance of the Chirundu highway for a long time.
"In 2002, the government of Japan extended grant aid to build the New Chirundu Bridge, with the dual lane, 400 metre long and 120 tonne maximum road across the Zambezi River between Zimbabwe and Zambia," it added.
The statement further said: "In 2009, with support from Japan International Co-operation Agency (Jica) and other partners, the Chirundu One Stop Border Post was launched for the first time of this kind in Africa to enhance trade facilitation through efficient movement of goods and people along the north-south corridor."
The development comes as Zimbabwe has started an ambitious dualisation of the Beitbridge to Chirundu highway, which is one of the busiest roads in the region, as it is also used by countries in the north to transport their goods to and from South Africa.