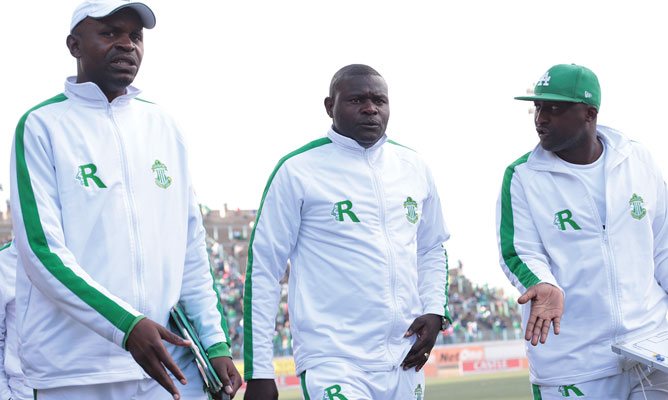 Lloyd Chitembwe and Norman Mapeza are two coaches that experienced fans' vilification this season, yet they are on the cusp of leading their respective teams to clinching the Castle Lager Premier Soccer League title, which for them comes with vindication.
BY Kevin Mapasure
For Chitembwe, the experience in the aftermath of the match against Hwange, where the Green Machine were held to a 1-1 draw, is not the first, as he endured such in his previous stint in the Caps United dugout.
The Hwange match experience must have been the most disappointing for him, with reports suggesting he considered his position after that and went close to walking out.
Caps United were third on the log five points ahead of rivals Dynamos and Chitembwe failed to understand why he was being ridiculed after leading the team to its best start in over a decade.
His crime, according to the fans, was freezing out Archford Gutu, as well as his persistence with error-prone goalkeeper, Brighton Muchambo, whose gaffe cost the team two points that day.
After that incident, he called for patience and promised to use the fans' desire and demands, as motivation and that he did, as Caps United put one majestic performance after another to climb to the top, suffering just three defeats along the way.
Mapeza had his first dose of the fans' fury after his team were held to a 1-1 draw by Ngezi Platinum Stars at Mandava Stadium and he is hard pressed to deny the fans any reason to confront him in that manner again.
The fans called for his dismissal, even though the team was still well poised to win their its top-flight championship.
Chitembwe first endured the wrath of the supporters in 2010, where they aimed derogatory songs at him, while some even threatened to assault him, as Caps United struggled after the departure of key players Nyasha Mushekwi, Method Mwanjali, Tafadzwa Rusike, Lionel Mutizwa, Oscar Machapa and Khama Billiat.
Caps United struggled that season and Chitembwe was booted out to be replaced by Moses Chunga.
It was so nasty, it didn't look like there was any way back for Chitembwe, yet here he is today 90 minutes away from thrusting the Caps United fans into throes of ecstasy.
Chitembwe acknowledges that at a club like Caps there is always pressure of expectation, but Mapeza maintains that he not under any form of pressure.
Not to suggest that he is in his last-chance saloon, but this is one championship that Mapeza really needs after coming close and failing on the last two occasions and he knows that if he fails again this time, he will give his doubters ammunition.
Fire burns deep inside each of the two former Warriors to win the biggest football prize in the country.
A win for Caps United in their match against Chapungu at Ascot Stadium will be enough to take them to dreamland, while FC Platinum, who trail the Green Machine by two points, can only take it if they win with Chitembwe's team dropping points. The season finale is delicately poised and both teams will play their respective matches with interest of proceedings at the other.
FC Platinum's task is compounded by the fact that they face a team that is out to avoid the drop. Tsholotsho have their own battle wih Mutare City Rovers, as both clubs strive to steer clear of one of the bottom two slots.
Mapeza will call on the experience of the likes of forwards, Rodwell Chinyengetere and Charles Sibanda, while Musona's skill will also be key.
Chitembwe, on the other hand, can draw from strikers Leonard Tsipa and Simba Nhivi, while he is spoilt for choice the midfield against a side grappling with injuries.