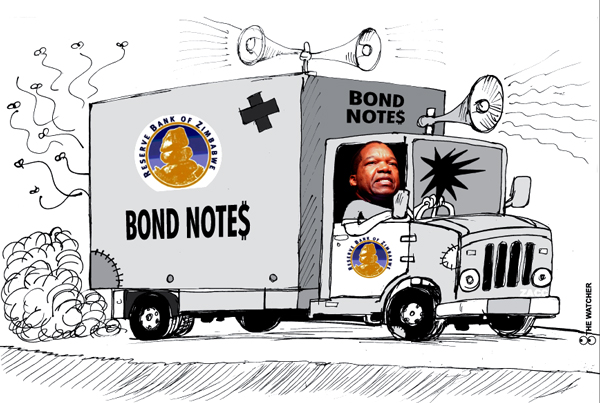 Ndabaningi Sithole, replying to his younger brother in a letter in 1977, raised a very interesting point on renewal and regeneration: "Seriously though, Mas, you and your generation must begin to formulate and express your views on all and every issue. My generation is on its way out, whether we like it or not. We have done our part, sometimes not as well as we might have liked to."
OPINION: WHITLAW MUGWIJI
Unfortunately, four decades later, we are still stuck with leadership from the 1970s; yes, that very same one that Sithole said was on its way out.
Even the heavens seem to be conspiring against Zimbabwe's regeneration. The old is refusing to die and the new cannot be born.
However, this year has been a bit promising. Young people have stepped up and have begun to play their part, reclaiming their space and taking full ownership of their own destiny.
They are leading from the front, calling and organising demonstrations and stayaways.
Doing exactly, if not more than what Sithole expected from his young brother's generation.
But if we are to be truly honest with ourselves, recent demonstrations and stayaways have been quite unsuccessful.
It might seem we have taken a step back but rest assured our struggle is going forward. At such times, we can only draw inspiration from former United States President Abraham Lincoln's words that: "Revolutions do not go backward".
But to make this statement true for Zimbabwe, we must interrogate the reasons why recent demonstrations have flopped and learn our lessons.
Thus, this article is not meant to bash those who are stepping up, but is an attempt to provide a few lessons for our struggle going forward.
Coalition building
Former United Kingdom Prime Minister Winston Churchill's remarks to his private secretary just a few hours before the Nazis invaded the Soviet Union are quite instructive to this politics of coalition building.
The secretary inquired how Churchill, an anti-communist, could reconcile himself to being on the same side as the Soviets.
Churchill's reply was clear and unequivocal: "I have only one purpose, the destruction of [German Chancellor Adolf] Hitler and my life is simplified, thereby. If Hitler invaded hell, I would make at least a favourable reference to the Devil in the House of Commons."
This is the attitude pro-democratic forces need to embrace. They might not agree with one another on many issues, but they must build alliances and work together for they share a common enemy.
It does not help that student, labour union, political party and other grassroots movement leaders learn about a demonstration they are expected to participate with their constituencies through social media.
If constituencies they represent are important in making a demonstration successful, it follows that they must be involved in the planning and organisation of the protests.
Everyone is free to exercise their right to protest. But to build proper mass protests, we must start working together and stop trying to outdo each other.
Grassroots mobilisation
This takes me back to my time as a student leader at Great Zimbabwe University. We once organised a demonstration against an increase in the catering fees.
We knew everyone was against the fee increase and, therefore, assumed that everyone would join in.
Unfortunately, our demonstration was a flop, not because people did not agree with us, but because we failed to prepare.
At least we learned a valuable lesson grounded in political realism.
Human beings do not always do what they ought to do. Sometimes they need a strong push.
Mass action is rarely impulsive, it needs cultivation and proper organisation.
Social media sites like Twitter and Facebook might be good tools to help spread the word, but they are inadequate. There must be mobilisation on the ground and, yes, this requires a serious investment in both human and material resources, and there are no two ways about it.
What is the end game?
This is the most burning question we still need to address. People want to know the immediate objective of any action they are to undertake.
It is perfectly legitimate for people to raise this question because in the arena of politics, people are primarily moved by self-interest, after all protesting in Zimbabwe can be quite costly.
People have participated in demonstrations in the past and yet none of their concerns have been addressed.
Under such circumstances, it is hardly surprising that some people can become a little disillusioned.
In order to counter this disillusionment, we must make our objectives unequivocally clear for everyone to understand.
Secondly, we must learn to pick our battles. We can't call for a demonstration after every two weeks. This makes the whole exercise very tedious for most people. We ought to be a little more creative in our protest.
Finally, we must pursue our objectives to the end. We cannot protest against corruption and stop when no one has been arrested or at least fired from government.
If our actions do not result in achieving our objectives, then we must do a rethink of our actions.
Change means friction
As Saul Alinsky in his book Rules for Radicals informs us: "Change means movement and movement means friction. We should never expect change to come without the abrasive friction of conflict."
When we demand change, we must be sensitive to the process of action and reaction.
We must anticipate the regime's actions and adapt our tactics to shifting circumstances, we cannot afford to become trapped in our own ways.
I sincerely believe that our ability to pick ourselves up and learn the valuable lessons we can learn from last week's temporary setback will determine if this generation of young men and women has what it takes to give birth to a new Zimbabwe.
A new Zimbabwe is possible in President Robert Mugabe's lifetime.
Whitlaw Mugwiji is a political analyst for Khuluma Afrika — a centre for analysis, commentary and investigative journalism