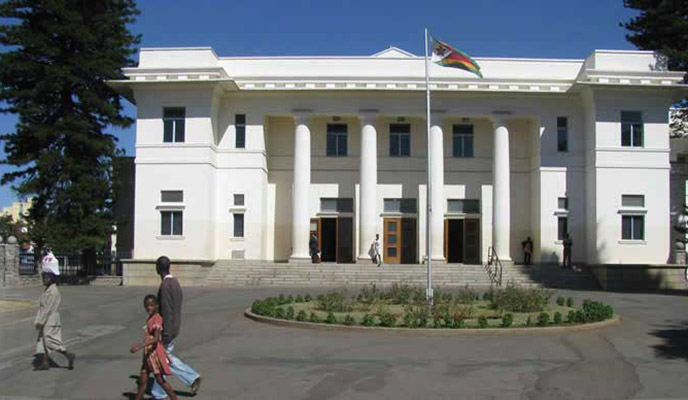 TWO Bulawayo City Council (BCC) plumbers, who are accused of demanding a $200 bribe from employees of prominent businessperson, Mgcini Nkolomi, to re-connect water to his restaurant, have filed an application for discharge citing lack of evidence.
BY SILAS NKALA
Mkhululi Ncube (42) of Nkulumane and Munyori Zhou of Pumula South were denying the charge of abuse of duty as public officers when they appeared before Bulawayo magistrate Gladmore Mushove.
The magistrate remanded the duo to Friday for ruling in their application for discharge.
In their defence, the two council employees submitted that they are not public officers and, therefore, the charges must be declared null and void.
They said they were approached by restaurant manager, Ntombenhle Ncube, who said the restaurant had a huge water bill.
Ncube and Zhou allegedly advised her that there could be a leakage somewhere along the water pipes before offering to rectify the problem in their free time for $150.
The pair claimed Ntombenhle later called them to collect the money for repairs of pipes.
But the State represented by Memory Takaedza opposed the application, saying it has managed to prove its case against the two, hence, they must be further put to their defence.
The court heard that on November 30, BCC cut off team disconnected water at McInn Restaurant for non-payment of water bills.
Ntombenhle Ncube phoned the restaurant owner, Nkolomi to advise him of the disconnection.
The accused allegedly reconnected water to the restaurant even before Nkolomi had settled the bill with council. On February 3, Silas Ncube and Nomalanga Tshuma, council plumbers, disconnected water from the restaurant after discovering that the water supply had been unlawfully reconnected.
The restaurant manager phoned the owner again to advise him of the disconnection. The two allegedly went to the restaurant and demanded $250 to have the water reconnected. The manager advised her employer about the demand. Nkolomi reported the matter to the council security and was advised to report to the police.
A sanctioned trap was set and notes amounting to $200 were photocopied and certified for the purpose of the trap.
Zhou sent Ncube to McInn Restaurant to collect the money. After collecting it, he was arrested and the trap money was recovered in his pocket.
Zhou, who had remained outside, disappeared when he realised Ncube was taking long to return. He was later arrested.