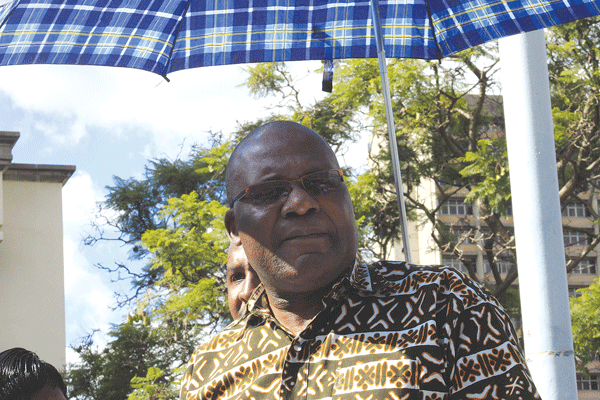 INFORMATION minister Christopher Mushowe disclosed yesterday that the government had no plans to quit the United Nations (UN), although President Robert Mugabe is on record threatening Africa's withdrawal from the world body.
BY BLESSED MHLANGA/MUNESU NYAKUDYA
Mushowe told NewsDay on the sidelines of the UN 71st birthday celebrations in Harare yesterday that Mugabe had been quoted out of context, saying the Zanu PF leader was merely expressing African countries' reservations over the composition of the UN Security Council.
"The President did not threaten to pull out of the UN, but merely outlined the concerns of the African Union over the composition of the Security Council. There needs to be reforms, which will see Africa getting a permanent seat and if Africa pulls out, it can't be called the UN," he said.
Mugabe, on his arrival from the 71st session of the UN General Assembly last month, told his Zanu PF supporters that he would mobilise other Africa States to pull out of the world body in protest.
The pull-out threat was made at a time the government is heavily dependent on UN and other multilateral donors for its infrastructural development, poverty and hunger alleviation in the face of a serious drought.
According to UN country coordinator, Bishow Parajuli, the world body had raised over $200 million to feed more than 1,5 million food-insecure people in Zimbabwe.
Parajuli said they were targeting to mobilise at least $352 million from the USA, France, China and Russia, among other donors, to help feed the 4,1 million Zimbabweans, who face hunger.
Meanwhile, Zimbabwe Human Rights Association director, Okay Machisa, yesterday said human rights groups had gathered evidence of government's alleged partisan distribution of food aid to benefit Zanu PF supporters.
Machisa was addressing a stakeholders' meeting attended by several civic organisations and Public Service, Labour and Social Welfare minister Prisca Mupfumira.
"We have empirical evidence in as far as the partisan distribution of food is concerned. We have on record court issues that are running in Manicaland, with regard to discrimination when it comes to food aid," he said.
In response, Mupfumira said: "On a distributing note, we have noted with concern the increased allegations by various media houses that the government food deficit mitigation programme is being run on partisan lines."