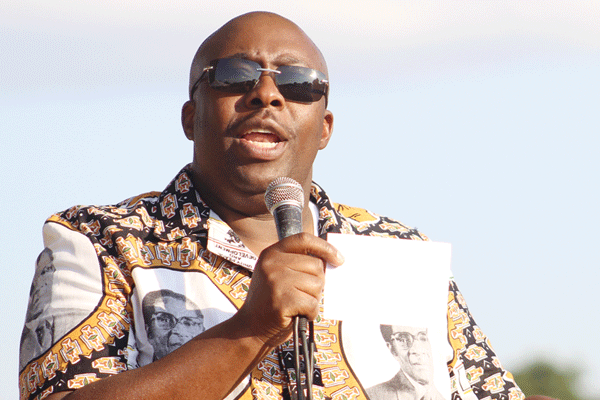 ZANU PF's introspection following the party's electoral defeat in the Norton constituency by-election on Saturday has stirred fresh debate over the expulsion of war veterans from the ruling party.
BY RICHARD CHIDZA
Independent candidate, Temba Mliswa trounced Zanu PF's Ronald Chindedza, with the ruling party's political commissar, Saviour Kasukuwere (pictured), now coming under the spotlight.
"Kasukuwere failed the party and there is now internal talk that Zanu PF made a huge blunder in sacking war veterans," a source claimed.
"There is a move to push for an aggregate resolution by provinces for a national commissar, who is a war veteran."
But Kasukuwere took the defeat on the chin, saying the blame should be shared equally by all party structures.
"(War veterans' leader, Christopher) Mutsvangwa and his group must shut up. He lost Norton in 2008 because of his vengeful policies, including covering up boreholes we had sunk for the people. He must just shut up," Kasukuwere said.
"We slipped in Norton and, as always, the party will do a post-mortem to see where we went wrong. We take decisions together, we did our best and we now look to the future to reclaim that seat.
"This is only one seat we lost out of 30 by-elections we won. That, by any measure, cannot be called failure."
Mutsvangwa hit back, accusing Kasukuwere of riding roughshod over party procedures against the people's choice.
"I went on to a redeeming win in 2013 and the people embraced me. He used party skulduggery to rob the people of their constitutional choice. They paid him back with a thorough drubbing of his G40-imposed candidate last Sunday," he said.
"He must be reminded that I deftly avoided being in the election and the loss is his alone."
In April this year, following a meeting with President Robert Mugabe, war veterans demanded that Kasukuwere be relieved of his duties as the party's chief organiser.
Mugabe has not given in to the demand.
Zimbabwe National Liberation War Veterans' Association (ZNLWVA) spokesperson, Douglas Mahiya yesterday twisted the knife.
"After Norton, war veterans want all Zimbabweans united for true democracy and the impartial, transparent rule of law that does not protect thievery and corruption," he said.
"We need business-centred policies that will grow the economy, so that factories are revived and new industries are opened up. We engender economic prosperity through encouraging local capital, while going all out to attract foreign direct investment.
"We must jettison the G40 economic gimmickry of doling out urban stands to motley youths, whose stark poverty denies them a decent meal or a pair of shoes.
"Full employment in global class industrial activity delivers jobs that beget wages, which in turn sustain house mortgages. That is the way it is done. Not the charade and mirage of G40 self-serving stand allocations that mask crony land barons."
Asked if the war veterans would consider an offer to return to Zanu PF, Mahiya, one of five leading former freedom fighters facing trial in connection with the stinging July communique calling on Mugabe to step down, was guarded about their plans.
"Our present legal and political situation has taught us a bitter lesson. Once bitten, twice shy," he said cryptically.
"We now have to hedge our bets accordingly. Never again shall we be sitting ducks for another blow from the likes of (Zanu PF politburo member) Jonathan Moyo, Kasukuwere and G40 types."
War veterans have openly declared their support for Vice-President Emmerson Mnangagwa in the fight to take over from 92-year-old Mugabe, but the G40 faction is said to be opposed to that.