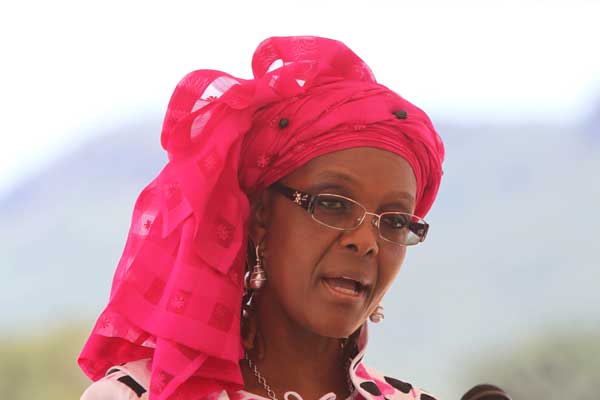 FIRST Lady, Grace Mugabe, has warned Zanu PF to guard against complacency, saying the ruling party could easily lose the 2018 elections if top officials continued lining their pockets instead of monitoring service delivery.
BY JAIROS SAUNYAMA
Addressing thousands of people at the official opening of Zivagwe Bridge in Chivhu, Mashonaland East province, yesterday, Grace said elected officials such as MPs and councillors could cost Zanu PF dearly if they do not work hard, but continue to loot public resources.
"It is, therefore, my fervent hope that political leaders, MPs in particular, pay attention to those matters that make life better for the communities they represent," she said.
"While some are doing it better than others, there are some among us, who have consistently disappointed. Please, MPs, I implore you, your people need you. You are there to serve them."
In the run-up to the 2013 elections, Zanu PF made several promises most of which are yet to be fulfilled. The ruling party pledged to create 2,2 million jobs over five years by unlocking value from idle assets worth at least $1,8 trillion of mineral claims or reserves.
But three years on, the country is in a state of paralysis, with thousands losing their jobs almost weekly.
The ruling party also promised it would build 1,25 million houses to clear the national housing backlog, while its indigenisation and economic empowerment programme appears to have suffered a stillbirth, amid allegations of massive looting of resources allocated to the community share ownership trusts by Zanu PF fat cats.
Grace said the Zanu PF government must be indefatigable in providing better roads, more schools, closer and clean water sources, food for everyone, health, education, and improved social welfare that takes care of the elderly, the orphaned and the socially disadvantaged.
"This indomitable spirit wins us votes, because we will have shown our determination to make Zimbabwe a better habitat," she said. The First Lady blasted some Zanu PF leaders she claimed were in the habit of using their positions to loot public resources meant to benefit their communities.
"Councillors, you are not there to steal. Your duty is not about that. The duties are to monitor social service delivery for the people. You are not given positions to fill your pockets," she said.
Grace also urged Zimbabweans to participate in nation-building and stop depending on government handouts.
"We are all aware of the economic hardships that our country faces right now. As such, Zimbabweans need to also participate in nation-building and not leave everything the to government," she said.
"As the mother of the nation, I challenge those in leadership positions to set up development initiatives of this nature, if we are to bring smiles to the communities we superintend over.
"While the commissioning of this bridge and road can be erroneously viewed as a low-profile event, our presence today has naturally shifted our mindsets and accorded community development projects the reverence they deserve. I subscribe to the notion that government's role is only facilitative and to avail a friendly working environment."
Construction of the 40-metre-long bridge and a short stretch of tarred road on both sides of the bridge cost a combined $4 million.
The project, a brainchild of Industry and Commerce minister Mike Bimha, links Mashonaland East and Manicaland provinces.