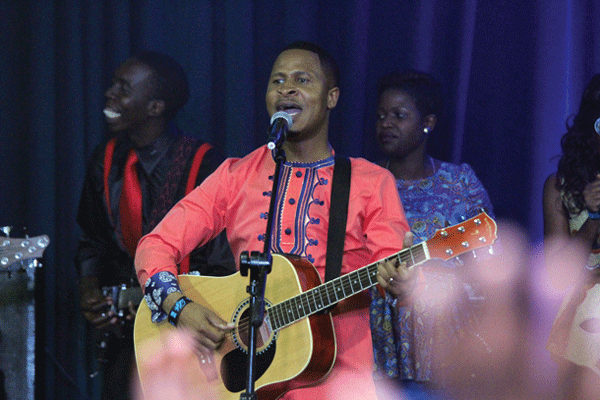 Popular gospel singer Michael "Minister" Mahendere, on Saturday lost his Apple iPad and an artiste's make-up bag after "thieves" broke the driver's window of his vehicle at the highly-publicised award-winning Nigerian gospel singer, Sinach's live concert, at Glamis Arena in Harare.
BY WINSTONE ANTONIO
Although it was a night of excitement for the Christian community, after the star attraction Sinach lived to her billing by putting up a polished act punctuated by prayers from her melodious voice, some people, among them Mahendere, went home disappointed, as their cars were smashed and lost their valuables like mobile phones, laptops and money.
Mahendere, a United Family International Church pastor, was part of the star-studded line up of performers, among them Zimpraise Choir, Call to Worship Choir, Heartfelt Choir, and the United Family International Church Choir, who shared the stage with Sinach.
Mahendere, who confirmed the incident to NewsDay yesterday, did not disclose the value of the lost goods, bemoaning the "unfriendly" treatment he got from the concert organisers despite being a guest artiste.
"You want to write a story? There is nothing much to write about. It was just a result of poor security. As a guest musician, I was not given a proper parking, which resulted in the breaking into of the car," he said.
The concert could have provided brisk business for some security personnel, as they charged motorists between $3 to about $5, to safeguard their cars parked outside the venue.
A random check by NewsDay at the parking spaces at the venue showed a trail of damage, as some shattered window glasses could be seen on the ground, with some of the fans having unkind words for concert organisers.
The victims accused hired security personnel of being behind the "thefts" at the concert.
"The concert organisers were only after our money and failed to secure our cars, despite that we paid their security personnels extra $4 for what they called secure parking despite the value of our tickets. I think these security personnel were the masterminders of the thefts," David Gwatidzo of Norton said.
Some music followers said local music promoters must respect them if they were to continue enjoying their support at live concerts.
"We opted for the VIP ticket, which we purchased for $25, only to be told at the gate by the security that we could not freely move out of the venue and if we did so, we had to repay, as there were no tags (wrist bands). We were shocked after the show when we came and found my friend's car window broken," one Bridget Nhamoinesu said.
Meanwhile, despite all the local supporting acts delivering sterling performances ahead of the internationally-acclaimed gospel star, Sinach, who later went on to put up a top-notch performance, the show failed to attract a big crowd, much to the organiser's chagrin.
Born Osinachi Kalu-Egbu, Sinach, a key member of the Love World Ministry music team of Christ Embassy Church, was making a return to Zimbabwe, having performed in the country three years ago at a packed show at the Harare International Conference Centre.
She also shared the stage with another Nigerian gospel music icon, Assent Tweed, who is based in South Africa.
While a concert of such a magnitude, headlined by an internationally-acclaimed singer, would have been characterised by long winding queues, as motorists negotiate their way to the venue, in in what has become the norm with shows headlined by foreign acts, the traffic situation was smooth giving the fans no hustle to drive their way to the venue a pointer to what was expected inside.
The concert organiser, Promise Chikuni, of Black Entertainment Studios, in a desperate move to portray a pleasing "full house" to the visiting artiste, was later forced to let the ordinary ticket paying fans, who initially were housed at the far end of the stage, to join guests at the VIP section, which had a better view.
Sinach, whose music has earned her respect across the globe, with some of her songs sung at many churches worldwide, managed to get the audience on their feet, as they sang along during her three-hour-long performance.
Songs, such as Way Maker, I Am Blessed, From Glory to Glory, In The Name of Jesus and I Know Who I Am, kept fans on their feet.
In the midst of her performance, Sinach said she was happy to return to Zimbabwe.
"We are so proud to be here with my band. Thank you, the concert organisers for inviting us to be here. We are going to worship the Lord in song and if you feel like crying, jumping or laying down for the lord, that's okay, this is why we are here," she shouted amid rapturous applause from the crowd.
The concert, which was endorsed by the Tourism and Hospitality Industry minister Walter Mzembi — who was the guest of honour — was also graced by Police Commissioner-General Augustine Chihuri's wife, Isabel, and the current Child President, Tinaye Mbavari.
Zimbabwe's Mrs Universe International first princess Tracey-Anne Buckley Aggett, who was accompanied by her manager Zandile Zaza Ndlovu, also attended.