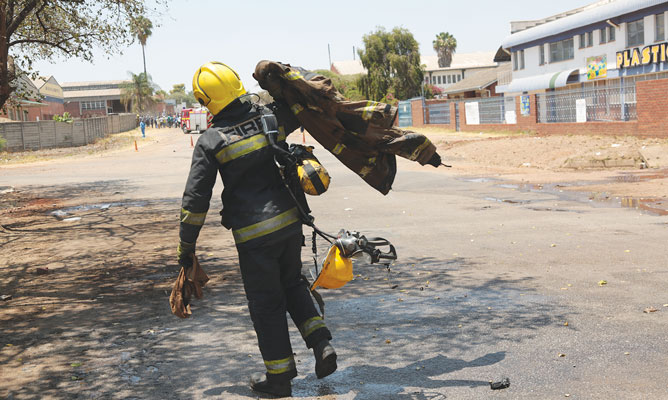 THREE Harare City Council firefighters were severely burnt yesterday, while trying to rescue workers trapped in a raging inferno inside a suspected illicit beer manufacturing plant in Harare's Graniteside industrial area.
BY XOLISANI NCUBE
Acting council spokesperson, Michael Chideme, confirmed the incident and said the three firefighters, identified as Tapera Chipara, Naboth Zvaita and Wisdom Yonamu, were admitted to Parirenyatwa Hospital amid plans to have them sent to South Africa for specialised treatment.
"They were attending to a fire caused by burning ethanol at an illegal storage facility. The company kept 30 000 litres of ethanol without a licence. A fire broke out during decanting.
"When the officers entered the facility, there was an explosion, leading to a huge fire. They managed to walk out of the inferno, but sustained serious injuries. They are currently hospitalised at Parirenyatwa and we are planning to evacuate them to South Africa for specialised medication," he said.
Eyewitnesses said fire broke out when five workers were left locked inside the storage facility, where they were repackaging an illicit beer brand. The workers also sustained burns.
The company is believed to be in the business of brewing mbarure beer — an illegal cane spirit sold on the streets.
It took more than three hours for the fire fighters to put off the blaze, as the fire tenders had inadequate water.
"We don't have sufficient water to put out this flame. It requires enough and reliable water supply, but as you can see, Harare is dry, so what we have can't suffice," a senior fire officer, who requested not to be named for professional reasons, said.
Harare police spokesperson, Assistant Inspector Tarirai Dube referred NewsDay to national police spokesperson, Chief Superintendent Paul Nyathi, whose mobile phone went unanswered.
The company's management was unreachable for comment.