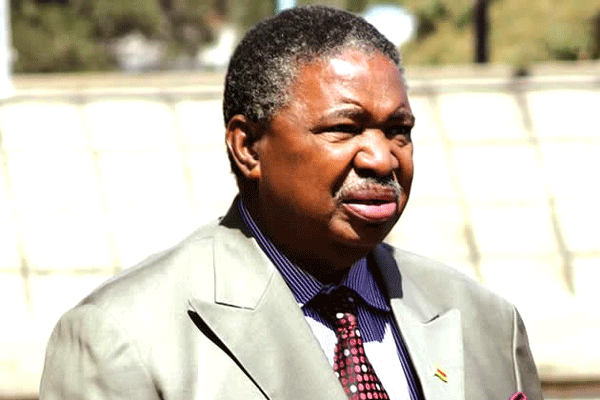 ACTING President Phelekezela Mphoko on Monday reportedly summoned members of the Zimbabwe Anti-Corruption Commission (Zacc) and roasted them over their plot to arrest Higher Education minister Jonathan Moyo on corruption allegations.
BY RICHARD CHIDZA/VENERANDA LANGA
Zacc spokesperson, Phyllis Chikundura, confirmed the meeting, but declined to disclose details.
"They met, but I was not privy to the discussions. Most of these things will be covered at our Press conference tomorrow (today)," she said.
This came as Vice-President Emmerson Mnangagwa told Parliament yesterday that President Robert Mugabe was the only Zimbabwean citizen immune to prosecution.
Moyo has since last week been under the public spotlight following a foiled bid by Zacc investigators to arrest him on allegations of siphoning close to $400 000 from the Zimbabwe Manpower Development Fund (Zimdef) to finance various Zanu PF activities, including acquiring bicycles for traditional leaders in his Tsholotsho North constituency.
"Mphoko began calling Zacc commissioners last week just after the politburo meeting," an insider revealed.
"There has been a misconception that President (Robert) Mugabe blocked Moyo's arrest. The President actually asked Moyo to present himself to Zacc and offer his side of the story. A sobbing Moyo then lashed out at his factional enemies, including Mnangagwa.
"Moyo insisted the money from Zimdef had benefited Zanu PF and the President had been fully briefed."
Zacc commissioners, led by board chairperson, Job Whabira, had reportedly initially refused to meet Mphoko, but later relented.
At the meeting, Mphoko allegedly accused the commission of pushing a factional agenda to destabilise the Zanu PF government.
"He also accused Zacc of selective application of the law, as well as refusing to listen to his orders. It was a stormy meeting, with angry exchanges, including a clash after one commissioner called Mphoko 'VP'. To which Mphoko retorted 'I am the Acting President'," an insider said.
The source said they showed Mphoko overwhelming evidence against Moyo and it was agreed that only Mugabe could deal with the matter.
Moyo has defended his use of public funds to bankroll Zanu PF activities and blasted his detractors for allegedly blowing the issue out of proportion in a bid to settle political scores.
The Zanu PF politburo member has raised a social media storm, accusing his political enemies of pursuing a factional and tribal agenda. Moyo has also declared he would not submit to Zacc's request for an interview.
"Would you go to the mafia at midnight under the cover of darkness to clear your name?" he tweeted rhetorically.
Meanwhile, Mnangagwa yesterday said Moyo was liable to prosecution.
He was responding to opposition legislators' concerns over Mphoko's weekend claim that no Cabinet minister could be arrested without the President's say-so.
"All that we are supposed to take into cognisance is that it is only the President, who has immunity, and all other persons in this country can be arrested and are under the laws of this country," Mnangagwa said.
"If there is someone who did not follow the laws, then go and report them to the authorities, so that they take action on them.
"Corruption can be tackled through the laws crafted by Parliament and it is up to MPs to strengthen them and make them deterrent. If you think there are loopholes in the anti-corruption laws, then amend them."
The MPs also cited a case, where Mphoko, in July this year, allegedly stormed Avondale Police Station in Harare and freed two Zinara executives arrested on corruption allegations, and Mnangagwa challenged them to submit proof of the incident.
Mnangagwa said government does not condone corruption.