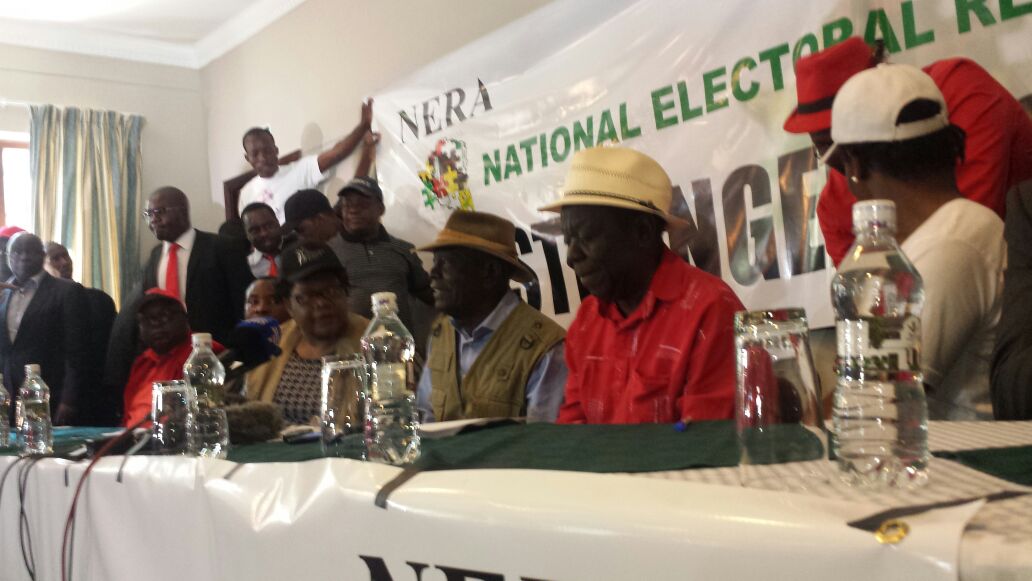 PROVINCIAL chairpersons of all opposition parties pushing for electoral reforms under the banner of the National Electoral Reform Agenda (Nera) met in Harare yesterday to review their strategies aimed at pushing government to level the political playing field.
BY Everson Mushava
The meeting came as the opposition parties were warming up to other crippling nationwide protests for electoral reforms.
Nera head of operations Morgen Komichi told NewsDay that the meeting was aimed at briefing all provinces on Nera's activities in the past weeks as well as mapping the way forward in its efforts to both confront and engage President Robert Mugabe's regime until reforms were made.
"We are definitely going to up the game," Komichi said.
"We are meeting to have feedback on what has been happening and mapping the way forward. We want now to cascade to all constituencies, have structures so that our show of discontent will be nationwide."
He said Nera's demonstrations over the past two months had managed to create public awareness and interest in the reform agenda, and vowed to continue pushing Mugabe's "arrogant" regime to the wall until reforms were implemented before the next plebiscite.
Nera administrator Charles Mbira said opposition parties would continue to push for institutional reforms until the Zimbabwe Electoral Commission (Zec) became independent.
"We cannot talk of free and fair elections when Zec is not independent," he said.
Nera head of secretariat Sungai Mazando said time was running out for preparing for the next elections, but remained hopeful that reforms would be achieved in the shortest period possible to allow free and fair polls.