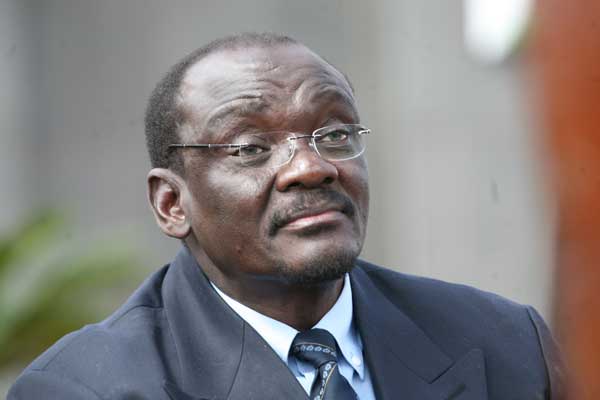 STATE Security minister, Kembo Mohadi (pictured), yesterday broke ranks with the Zanu PF leadership, when he accused the government of denying national hero status to some deserving war cadres, particularly former PF-Zapu members.
BY OWN CORRESPONDENT
Addressing mourners at the burial of former Zapu official and ex-detainee, Mugibela Phillip Kibi Muleya, who died last week and was declared a liberation war hero, Mohadi said: "To us, he deserved more than this, we wanted him to be declared a national hero and buried at those hills (Heroes' Acre).
"But we are not sure how it (hero selection process) is done. We should have been at the national shrine as we speak."
President Robert Mugabe has on several occasions declared that the National Heroes Acre was a Zanu PF members' club only.
Many Zimbabweans, particularly from former PF-Zapu have, albeit with muffled voices, questioned the criteria used in declaring heroes.
Mohadi, the Member of Parliament for Beitbridge East, urged his constituents to uphold their Venda culture and shun intrusion by Shonas and Ndebeles.
"We, the Vendas, are closer to God than they are and we should not allow them to destroy our culture," he said, after giving a brief narration of Beitbridge and his role in the liberation struggle.
Mohadi told mourners he fired three bullets before he was arrested and detained in Bulawayo.
"I was on my mapping assignment when the Rhodesian Special Branch connered us at the High Court. The deceased, Muleya, was our driver and I managed to fire just three rounds," he said.
The late Muleya reportedly died a bitter man after being denied the Beitbridge senatorial seat grabbed by Mohadi's wife, Tambudzani. Muleya is survived by his wife, Malaika, and eight children.