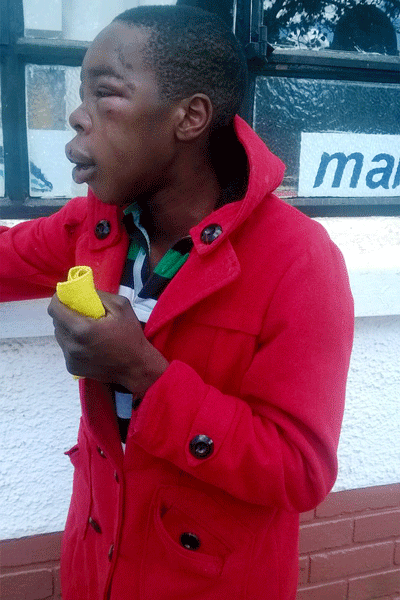 A reveller has accused seven Amaveni police officers of robbing him at gunpoint before brutally assaulting him last month.
BY BLESSED MHLANGA
Osborne Ncube, through his lawyer Farai Shepard, has approached the officer in charge of Amaveni police, accusing him of failing to investigate a case against his juniors, who allegedly robbed him at gunpoint.
Ncube alleges that seven police officers, led by a sergeant Sibanda, attacked him together with Mavis Moyo and James Sibanda after they were caught drinking beer at Munyaradzi's shebeen in Amaveni.
"While at Munyaradzi's shebeen, the three were unlawfully attacked by seven uniformed police officers led by one sergeant Sibanda and they were robbed at gunpoint by the police officers," reads the letter.
The police, while acknowledging that Ncube and his friends were attacked, denied involvement in the matter.
In a request for medical attention form signed by a constable Chomusora (060886B), the police said Ncube had been attacked by unknown people with unknown objects.
"Complainant was assaulted by a group of unknown people with an unknown object on the mouth," reads the request for treatment and medical report.
The medical report shows Ncube suffered extensive injuries during the alleged attack by the police officers, with the hospital transferring him to maxillary facial surgeons to work on his torn lower lip and swollen face.
Shepard is now accusing the police of failing to investigate the matter and instead are trying to force Ncube to withdraw the charges.
According to Shepard, the police, in an effort to force Ncube to withdraw the case against them, unlawfully arrested him on Saturday on allegations of assault and held him in custody for three days before releasing him without charge.
"We have been visiting him in cells since Saturday and he was only released on Tuesday, where he was given a small note that police will proceed by way of summons," he said.
"While in holding cells, he was asked to withdraw the case against the police in exchange for his freedom."
Ncube's lawyers said his client will now proceed to sue the police for unlawful detention, while at the same time making efforts to have the seven prosecuted.