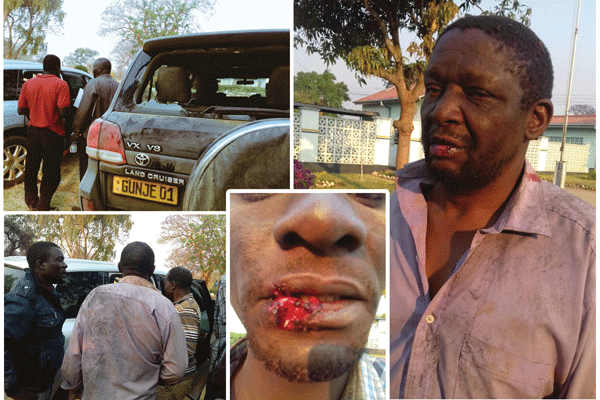 AT least six Zimbabwe People First (ZimPF) officials — one of them a former military general — have been hospitalised after they were allegedly savagely attacked with machetes and axes by Zanu PF activists in Guruve on Sunday.
BY RICHARD CHIDZA/JAIROS SAUNYAMA
The clashes were allegedly triggered by Zanu PF youths, who invaded ZimPF official Obert Mutasa's plot at Dunaventy Farm, accusing him of defecting to Mujuru's party.
ZimPF spokesperson, Jealousy Mawarire, yesterday confirmed that six party officials were savagely attacked and were under heavy police guard at a private hospital in Bindura.
"I can confirm that six of our officials were brutalised by Zanu PF youths over a farm at the weekend," he said.
"They reported the matter to the police in Guruve, but to our surprise they are now being detained while in hospital. There are six heavily-armed police details guarding those in hospital, with one of them holding an AK47 rifle."
Among the six, Mawarire said, was war veteran and former ambassador, Retired Brigadier General Agrippa Mutambara, now a senior official in the opposition party. Mawarire accused the government of using Nazi-type tactics against its opponents.
Tension escalated following ZimPF leader and former Vice-President Joice Mujuru's rally in the province early this month, with ruling party activists seeking to smoke out identified opposition supporters in the Zanu PF stronghold.
Mashonaland Central, which is Mujuru's home province, could be an election battleground given it has been a Zanu PF stronghold since independence in 1980.
ZimPF Mashonaland Central provincial interim chairperson, Godfrey Chimombe, said the opposition party's officials had been held incommunicado for four days.
"We survived death by a whisker. Trouble began when we went to Guruve to rescue our members, who were being illegally detained or held under house arrest by Zanu PF thugs for four days," he said.
"The youths were singing outside and were being denied food. We sought assistance from the police in Guruve, but they refused. They even refused to open a case on the issue. People were beaten and the provincial youth chairperson, Titus Manyika, had his Ford Ranger vehicle vandalised.
"The police and CIO (Central Intelligence Organisation) operatives congratulated the Zanu PF youths for what they did. The worst part is that our members, who were assaulted and are seeking medication at Shashi Hospital in Bindura, now stand accused of the violence."
Mashonaland Central provincial police spokesperson, Inspector Milton Mundembe, said he was yet to get details of the clashes.
Zanu PF provincial chairperson, Dickson Mafios, said he was away and had not been briefed on the matter.
"I am actually in Gweru on my way from Bulawayo. I have no information on the violence," he said.