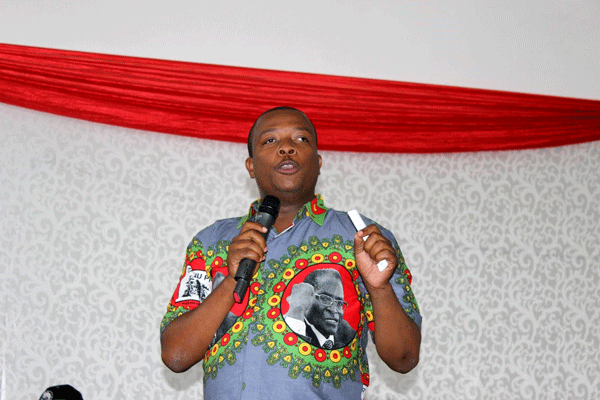 ZANU PF youths have threatened a fresh wave of land invasions targeted at all the remaining white-owned farms by 2018.
by Jairos Saunyama
The threat was made by Zanu PF youth secretary Kudzanai Chipanga while addressing a youth meeting in Marondera on Saturday.
"What do you do when a boyfriend is beating and falsely accusing his girlfriend of dating another man? You will finally fall in love with the man. The Western countries imposed sanctions on us because of the land issue. So today we are saying we need to take over the remaining white-owned farms. By 2018, we should have taken them over. It is our land and it is possible," he said.
Chipanga also assured ruling party youths that they would all get urban residential stands they were promised by President Robert Mugabe.
Speaking at the same event, Mashonaland East provincial youth chairperson Kelvin Mutsvairo said Zanu PF youths in Seke would get their stands tomorrow.
"Your stands are there. Some youths in Seke will have residential stands by Wednesday under Urban Development Corporation. The land is there and planning has already been done. We will make sure that youths in other districts will get the residential stands as promised by the President," Mutsvairo said.
He urged party members to take over commuter omnibus ranks and become rank marshals.
"We are saying the likes of Tajamuka activists are coming from the ranks. The ranks are filled with the wrong people. It is high time our youths became rank marshals. In this province, we are not going to allow demonstrations. We will thwart all protests," he said.
Zanu PF national youth political commissar Innocent Hamandishe recently approached Mugabe requesting that party youths be allowed to take over management of bus ranks in all urban centres in order to neutralise the influence of opposition parties on urban voters.
This came amid fears the ruling party youths wanted to use the ranks as campaign bases.